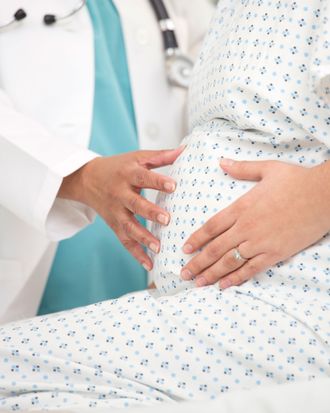 Photo: Ariel Skelley/Blend Images/Getty Images
Last year, Jessica Mann's doctors advised that she have a tubal ligation immediately following a C-section to deliver her second child. That's because Mann has a benign brain tumor that could cause blindness or paralysis, and any future pregnancies could put a strain on her health. But a Catholic hospital in Michigan refused to sterilize her on religious grounds. Now, the American Civil Liberties Union has filed a federal complaint on her behalf for failing to provide appropriate care.

The ACLU is asking the U.S. Department of Health and Human Services' Office for Civil Rights to investigate the sterilization policies of Genesys Health System and its parent company, Ascension Health, to see if they violate federal health care regulations. (It's the largest Catholic health organization in the country.)

Mann had her two previous children at Genesys Regional Medical Center in Grand Blanc, Michigan, and provided doctors with a letter asking for an exception to the hospital's sterilization ban. It was denied. The hospital suggested she have the C-section there and get the tubal ligation — a second abdominal surgery — somewhere else. She then had to "frantically search for a new doctor and new hospital," where she could have a C-section followed by tubal ligation.

The ACLU initially filed a complaint with state-level officials, but the Michigan Department of Licensing and Regulatory Affairs dismissed it because it didn't pertain to the conditions of the hospital itself.
An ACLU report last year found that there are more than 500 Catholic-affiliated hospitals in the U.S. which can deny tubal ligation, emergency contraception, or inducing labor before fetal viability when a woman is miscarrying. This is not health care.