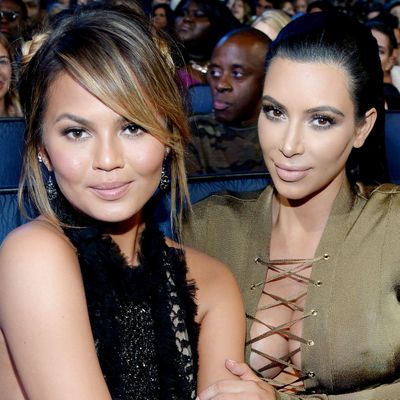 Chrissy Teigen (left) and Kim Kardashian (right).
Photo: Kevin Mazur/MTV1415/Getty Images
Shortly after her close friend Kim Kardashian was robbed and tied up at gunpoint, Chrissy Teigen took to social media on Sunday night to slam those who were making insensitive jokes about the ordeal.
In a series of tweets, the supermodel explained that fame is "interesting" in that celebrities are expected to love their fans, while also knowing that their fans would turn on them in a heartbeat for attention on social media. Teigen went on to say that she knows she likely sounds "whiny," since most people assume that being rich and famous is nothing but "pure awesome."
But in reality, celebrities deal with hardships as well and are deserving of empathy, not jokes, when bad things happen to them, according to Teigen. The supermodel tweeted:
Try explaining that to French Twitter.