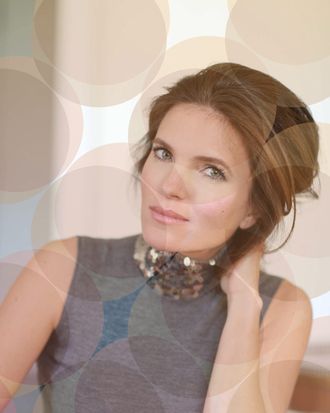 Clémence von Mueffling of Beauty and Well Being
Photo: Pamela Berkovic
What do you know about French women? Wait, let me guess. They're thin even though Brie is consumed intravenously; they wear very little makeup yet their skin is as poreless as plastic; they carry very strong opinions about fragrance; and oh, their lap-of-luxury maternity-leave policy is rich. Clémence von Mueffling, an actual French woman, has thoughts on some of your American-brain conceptions of French women, specifically calling foul on the illusion of the effortlessly perfect French woman when I met her last week.
Von Mueffling isn't just French, she's a third-generation beauty editor — both her mother and grandmother held the beauty reins for decades at French Vogue. Von Mueffling took a slightly different path. She started on the business side of the beauty industry, working on the communications end for capital-B Big Beauty companies like Clarins and Dior before packing her bags for New York and launching a Goop-adjacent site of her own.
Beauty and Well Being is the summation of everything von Mueffling felt she couldn't achieve by working at the glossy of her foremothers. "I had a very precise way that I wanted to talk to women," she says. "I wanted to develop a platform where I could talk to women of all ages, from 25 to 65-plus."
The target age differential is apparent on the site, with subjects of her interviews ranging from their 20s to much older years (model and New York socialite Marisa Berenson, though technically timeless, was interviewed a week ago), and there are advice articles and editorials punctuated throughout that play to women of multiple generations. With four to five stories published weekly, the site runs on the rigor of a small blog without the typos and copy errors of a home-office operation.
With Beauty and Well Being, von Mueffling is selling the insatiable allure of wellness. There's an editorial on which luxury oils are worth drizzling over your skin, an interview with Beyoncé and Jay Z's vegan-meal-plan business partner, and a conversation with wellness patient zero herself, Gwyneth Paltrow. (For the recond, von Mueffling is flattered by the Goop comparisons, telling me: "Goop has been a visionary and I like the fact that the site is not too overwhelming.")
Since its 2014 debut, every month the site underscores a different theme. The tantalizing topic of sleep was hoisted as a theme one month; working women was the motif in another. And within these themes there are curated shopping opportunities that von Mueffling cashes in on with affiliate links. A few of my favorites include Aerin's Rose de Grasse perfume, a playful and effervescent take on the typically grandma-like flower; SkinCeuticals' Physical Fusion sunscreen, which is wonderfully thin and not chalky; Christophe Robin's gnarly shampoo-scrub hybrid that the Cut's Stella Bugbee loves as well; Klorane's volume-inducing dry shampoo; and Sedu's ultrareliable flatiron.
Von Mueffling doesn't have plans to go full-on Goop and launch a beauty line of her own, noting that so many brands are doing a great job already. For skin care she sings the praises of Avène and La Roche-Posay, and she confesses that she's incredibly loyal to By Terry for makeup. Since the spa is an ecclesiastical experience for the French, she's made it a point to locate the best ones in Manhattan. Her findings led her to Caudalie ("they have an amazing woman there, Daphne, who does a mini-facial and lymphatic drainage on the body") and Isabelle Bellis, "she does a great face massage," von Mueffling tells me.
If there's one takeaway about the purpose of Beauty and Well Being, it's that living a beautiful, balanced life takes work. And yes, that rule applies to French women. "French women don't really like to share what they've been doing," von Mueffling explains. "They kind of like to hide and play the Oh, it's completely natural game when it's not." This applies to physician-helmed services as well. "The French woman is much more careful at doing small things on her face. When she's older she'll get Botox here, here, here, and there, and then a couple of fillers and vitamins. You can go to your dermatologist in your 20s and 30s and they will never tell you to do Botox. Here they might say, 'Oh, you turned 27, it might be a good time to start thinking about it.'"
And within a few short breaths, the illusion of the effortlessly perfect French woman puffed away.