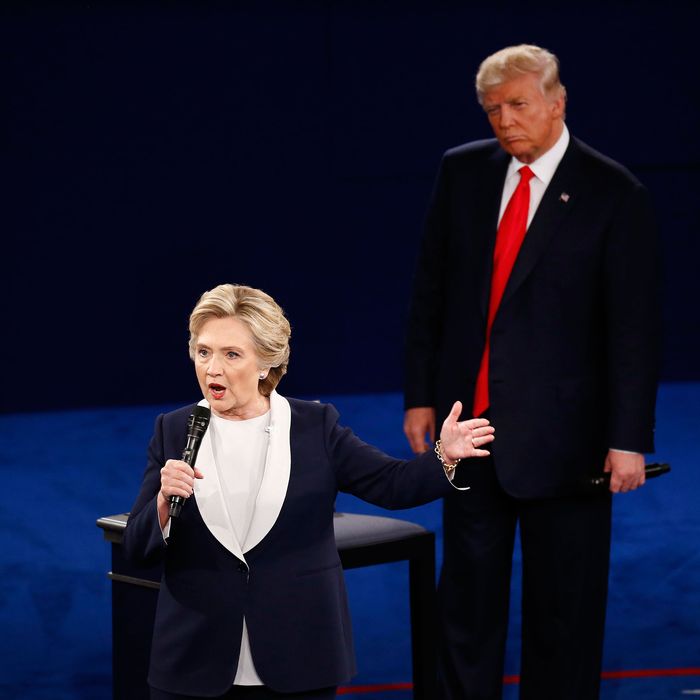 There's someone behind you, Hillary.
Photo: Bloomberg/Bloomberg via Getty Images
Some guy kept standing directly behind Hillary Clinton during the second presidential debate, and Twitter was quick to take notice. Some theorized Donald Trump's decision to follow Clinton around the stage was a power play, while others suggested it might be because Clinton employed the method first. Whatever the reason, the stalking made for poor optics, and even Clinton felt creeped out.
"It was clear that my opponent was going to try to dominate the space," said Clinton on The Ellen DeGeneres Show, according to a clip from Friday's episode. "You could sense how much anger he had, so he was really trying to dominate and then literally stalk me around the stage. I would just feel this presence behind me, and you know, I thought, Whoa, this is really weird."
At a rally in Florida, Trump proclaimed his innocence — "Believe me, the last space I would want to invade is her space," he told the crowd. "Believe me."
DeGeneres also gave Clinton a chance to respond to the multiple allegations of sexual assault that have been made against Trump since the debate. Clinton called the claims "distressing on many levels" but cautioned against complacency. "I don't want anybody to think the election's over," she said. "Because it's been so unpredictable up until now that I'm not taking anything for granted."