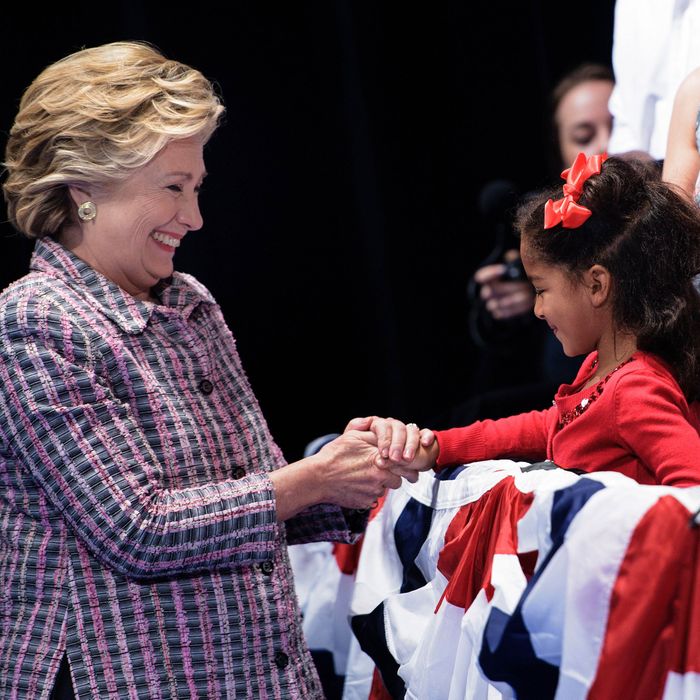 Photo: Brendan Smialowski/AFP/Getty Images
Hillary Clinton's campaign has unveiled a proposed amendment to the current federal income tax code which would double the tax credit parents can take for small children.
Under the current law, parents can take up to a $1,000 tax credit for each child under the age of 17. Clinton's plan would double that to $2,000 per child until 4 years of age. The proposed credit acknowledges that caring for young children when both parents work is expensive. The campaign said in a statement that the new credit "will make [parents'] lives a little bit easier and help restore fairness to our economy."
The campaign also has suggested that it would raise the amount that low-income families could get refunded when they owe no income tax. A statement issued to Bloomberg explained, "Under our current system millions of families do not qualify for the full credit or get very little benefit because they simply do not make enough money." Currently, one must exclude the first $3,000 of income before calculating a refund. The new proposal eliminates that.
Clinton has run her campaign with a strong focus on working families, children, and helping middle- and lower-income families. She has previously proposed that child-care expenses should be limited by a family's income and has spoken repeatedly on the rising costs of affordable child and health care.