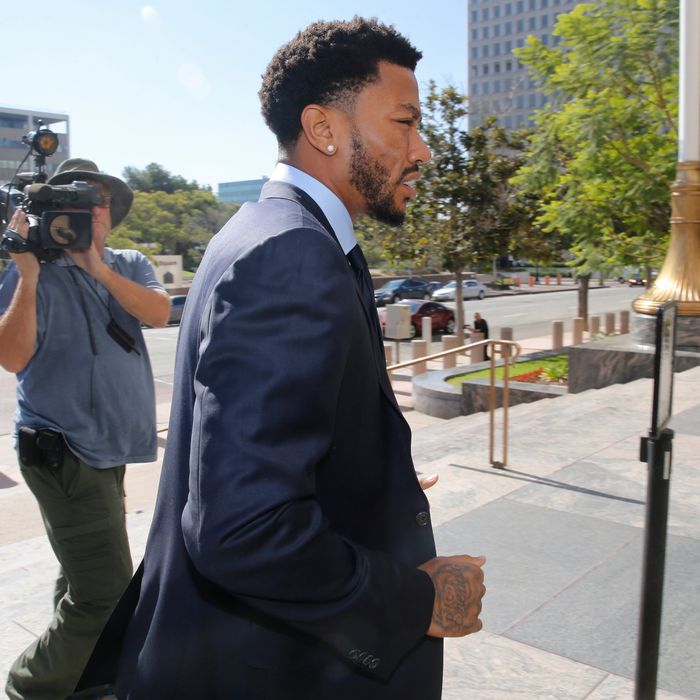 Derrick Rose.
Photo: Damian Dovarganes/AP
Jury members heard drastically different accounts during the closing arguments in the civil rape trial involving NBA player Derrick Rose. Rose, along with two of his friends, is accused of breaking into a woman's apartment in 2013, drugging her and gang-raping her. But, by the end of the trial, Rose's lawyer painted the woman as a "liar" and the "shot caller," who invited the men over but fabricated a rape in order to get millions. The lawyer for the woman, in turn, painted Rose and his friends as "sexual deviants," who showed no remorse for what they did and should be afforded no special privileges because of their status.

That all three men and the woman had sex is undisputed by all parties, but the trial hinges on whether the jury believes that the men knew the woman was intoxicated and never consented to group sex. Both sides in the trial cited dozens of texts between Rose and the alleged victim, whom he was in a relationship with for 20 months prior to when the rape allegedly occurred.

"This is a classic case of gang rape," Waukeen McCoy, the plaintiff's lead attorney, said, according to the Los Angeles Times. "They have no remorse, they are not apologetic." Conversely, Mark Baute, Rose's lawyer, argued that the woman is instead a former lover who is now looking for a claim to millions. "[She] is not a real rape victim … She is a liar," Baute said. "The only reason we're here," he added, "is because Derrick Rose has money and she wants some of it."
The jury will have to decide separately on all three alleged perpetrators.