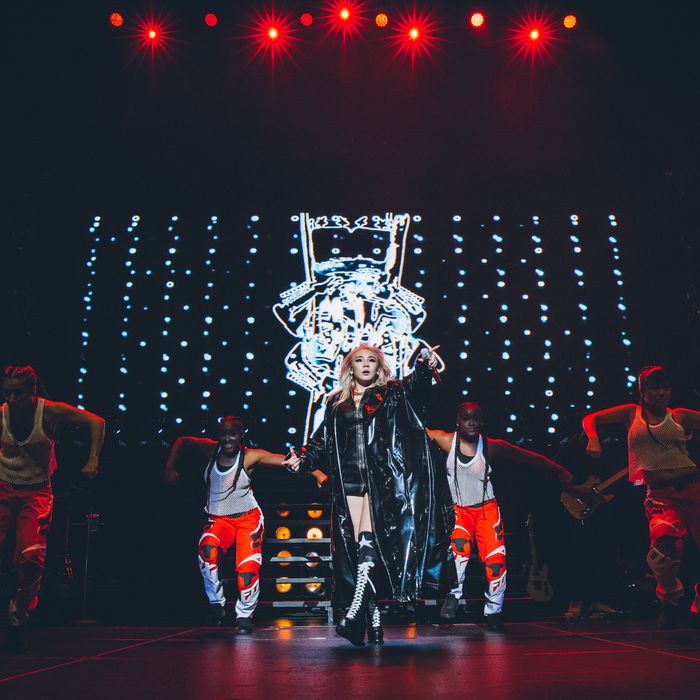 CL in an Alyx coat, custom leather dress, Givenchy heels, and Lynn Ban jewelry.
Photo: Jack Gorlin
The bitches came and they were wearing Vetements. CL, the singer-slash-rapper whom Diplo calls "the Nicki Minaj" of K-Pop, kicked off her first-ever North American tour (appropriately titled HELLO BI+CHES) this past Saturday night to a packed screaming crowd of fans. Best known as the lead singer of the girl group 2NE1, CL has a rabid following in her native South Korea. Now that she's signed to Scooter Braun's management (the same company behind Justin Bieber and Tori Kelly), and performed at an Alexander Wang after-party (a rite of passage for any cool rapper), CL is taking on the English-speaking market.
That's not to say she's completely unknown outside of Korea. The line to get into the venue was more diverse than you would expect. "Oh my god, we're like the minorities here. This is sooooo weird," whispered one (white) fan dressed as a bloody Patrick Bateman to another (also white) fan. They had a point — the crowd consisted mostly of incredibly excited Asian-American millennials, many of who have never seen her perform live. They turned out in streetwear-wearing droves, lining up hours in advance to get as close to CL as possible and dutifully buying the merch, which included a logo face mask and a light-up red stick ($10).
Those red light sticks were out in full force the moment she appeared on stage. Kicking off her first set with the 2NE1 song, "Fire," CL hit the stage in an Alyx black patent-leather jacket worn over a custom leather dress with Givenchy heels and Lynn Ban jewelry. She worked with stylist Matthew Mazur on three separate looks that incorporated her signature style — equal parts streetwear, over-the-top glamour, and classic pop-star sexiness.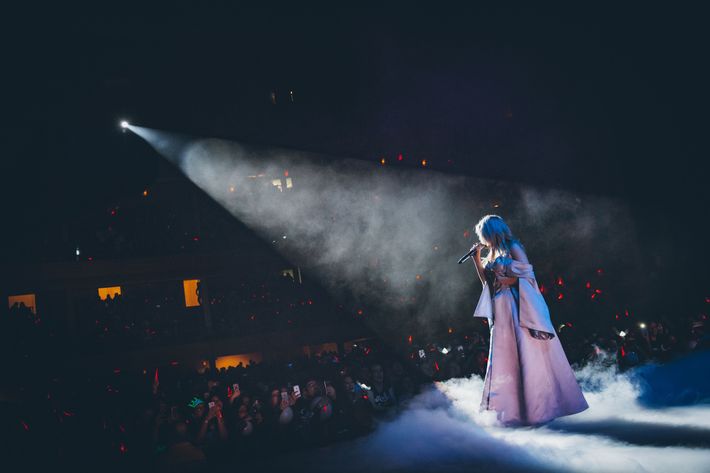 For CL's second outfit, Mazur turned to Central Saint Martins graduate Essie Buckman's Fortie Label to create a custom chrome-satin two-piece bustier gown that was actually a jumpsuit. It complemented a slowed down set that included 2NE1 hits like "I Don't Care" and "Falling in Love." CL added Manolo Blahniks and Fallon jewelry.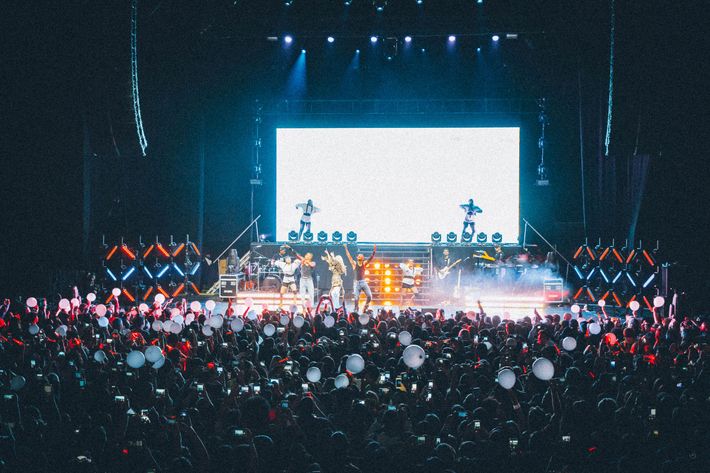 CL has told interviewers in the past of her desire to break typical Asian-female stereotypes ("I want to tell the world that there are some badass Asian female girls," she said to Billboard). In the second half of her performance, twerking and rapping with hip-hop braggadocio, CL did exactly that.
She led the crowd in a chorus of "Hey unni" (a Korean phrase similar to teen slang "mom") in a Matthew Adams Dolan camo jacket. "This is for all my bad girls around the world — not bad meaning bad, but bad meaning good, you know," she sang as the crowd cheered. For her final song, "Hello Bitches," she had the entire room counting to three in Korean — "Hana, Dul, Set … BITCHES!" — cementing her cross-cultural appeal.