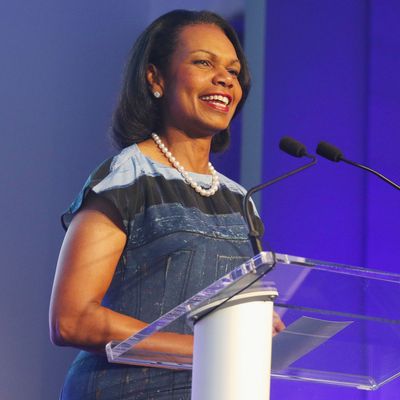 Condoleezza Rice speaks during the KPMG Women's Leadership Summit.
Photo: Scott Halleran/Getty Images for KPMG
According to reports, at one point the Trump campaign was playing around with the idea of vetting former secretary of State Condoleezza Rice as a vice-presidential candidate. That idea didn't pan out, reportedly because Rice wasn't interested. But if it had, the 2006 New York Daily News article that resurfaced yesterday would've been even more awkward.
According to the Daily News, Trump — who had his differences with the Bush administration — "fired off" on Rice during a keynote speech at the Learning Annex Real Estate and Wealth Expo. "Condoleezza Rice, she's a lovely woman, but I think she's a bitch," Trump reportedly said "to wild applause." "She goes around to other countries and other nations, negotiates with their leaders, comes back and nothing ever happens."
It should be noted that partial video of the speech from CNN's archives gives a much different version of the quote. In that video, Trump says, "I wish she was a bitch. I don't care if she's a lovely woman. I want somebody that can go and make deals."
Rice spoke out against Trump on Facebook earlier this month, calling on him to withdraw from the race. And when CNN reached out to Rice for a response to the report he'd called her a "bitch," she simply replied, "Can't wait until November 9!"
This post has been updated to include CNN's version of Trump's 2006 quote.