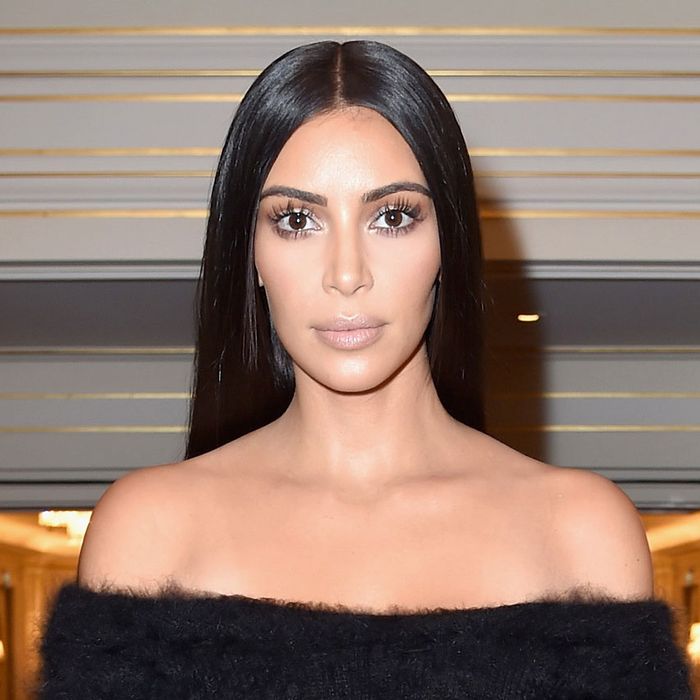 Kim Kardashian.
Photo: Pascal Le Segretain/Getty Images for Buro 24/7
Kim Kardashian was robbed at gunpoint and left tied up in a bathroom early Monday morning at a private residence in Paris. The violent crime was perpetrated by masked men dressed as police officers, who made off with more than $10 million worth of jewelry.
It's pretty clear that the crime isn't some kind of hoax: Police in Paris are on the scene and searching for the assailants, and a "terrified" Kardashian immediately returned to New York City to be with her husband and family, where she is currently being protected by a team of 15 to 20 bodyguards. Yet, despite all of this, skeptics have taken to social media to express their doubts about the crime. Here are some of the ridiculous theories floating around.
• Kim staged it for publicity.
• Kim and Kanye staged it as part of an insurance-fraud scheme.
• It was a ploy to boost ratings for Keeping Up With the Kardashians.
• Taylor Swift did it as payback.
• Donald Trump did it to distract us from news about him.
• She was robbed by a Pink Panther–esque gang.
With this robbery, Kardashian became merely the latest in a long list of female celebrities who have been the victims of harassment this year. As her friend Chrissy Teigen pointed out, Kardashian may be a public figure, but she's also the victim of a crime and deserving of empathy.