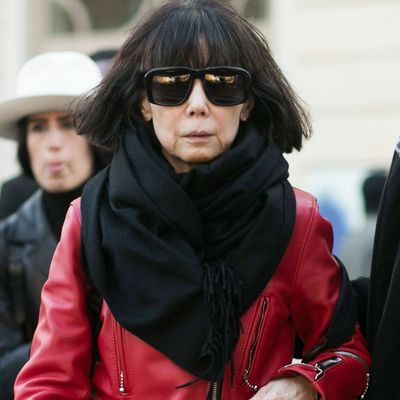 Rei Kawakubo.
Photo: Melodie Jeng/Getty Images
Rumors swirled in August that Comme des Garçons designer Rei Kawakubo would be getting her own Costume Institute retrospective and a dedicated Met Gala. Well, today the Met confirmed the news, announcing in a release that its spring exhibit and gala will be dedicated to the designer. Opening May 4, the show "will examine Kawakubo's fascination with interstitiality, or the space between boundaries," according to the statement. This marks the Costume Institute's first show dedicated to a living designer since its Yves Saint Laurent show in 1983.
The show will feature 120 pieces spanning the designer's 35-year career, including work from her first-ever collection. "Rei Kawakubo is one of the most important and influential designers of the past 40 years," said Andrew Bolton, the institute's curator-in-charge and curator of the show. "By inviting us to rethink fashion as a site of constant creation, recreation, and hybridity, she has defined the aesthetics of our time."

Kawakubo's own, ellipsis-ridden statement read: "I have always pursued a new way of thinking about design … by denying established values, conventions, and what is generally accepted as the norm. And the modes of expression that have always been most important to me are fusion … imbalance … unfinished … elimination … and absence of intent."
Katy Perry and Pharrell Williams will co-chair the gala with Anna Wintour (that's right, you may be seeing Perry in a three-sleeved dress) and we're sure that the attendees will break out their avant-garde CDG finest. This might mark the first time we'll see blood-stained gowns and gingham humps on the red carpet.