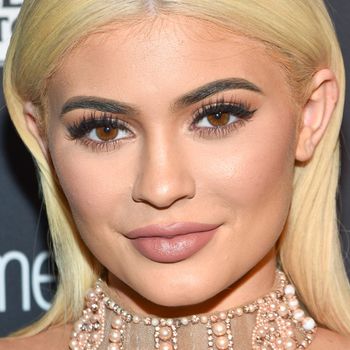 Kylie Jenner and a lip kit
Photo: Getty Images, Kylie Cosmetics
Since the beginning, Kylie Jenner's lip kits have been plagued with issues. The quality of the brushes were called into question, the brand's website crashed on more than one occasion, and, over the summer, the Better Business Bureau slapped Kylie Cosmetics with a big fat F. The latest problem with the brand revolves once again around crappy lip-kit formulas, but this time Kylie Cosmetics is bucking the blame.
A site — kyliecosmeticsoutlet.com — is masquerading itself as Jenner's online store and is selling bad dupes of the original lip kits. It's easy to be fooled. The illegitimate site is practically a carbon copy of Jenner's. To make matters worse, at least one hoodwinked customer is complaining that the lip kits contain glue, while another customer claimed a lip kit purchased from eBay was laced with gasoline.
Jenner warned followers on Snapchat and Twitter to only purchase lip kits from kyliecosmetics.com. Of course, if the shade you're pinning for is sold out on her site, there are other safer alternatives that won't glue your lips shut.