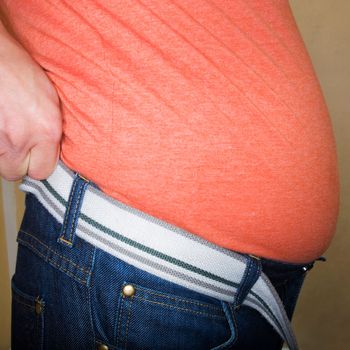 The dadbod.
Photo: Sian Kennedy/Getty Images
It was just last year that we learned of the existence of the "dadbod." And now, a new book claims that being a "pudgy dad" makes men healthier, appear more attractive, and more likely to live longer, the Guardian reports.
How Men Age, a book written by — surprise! — a middle-aged man, found the "slow physical decline after becoming a parent" works in men's favor. The author, Richard Bribiescas, is a professor of anthropology at Yale, and he said slight weight gain can strengthen the immune system. Additionally, a scientific study found that men with slow metabolisms are "50% less likely to die in any given year than their skinnier counterparts," the Guardian noted.
Furthermore, according to Newsweek, Bribiescas also claims that older men with a few extra pounds are less likely to have a heart attacks or develop prostate cancer. Newsweek quotes Bribiescas as saying:
"One effect of lower testosterone levels is loss of muscle mass and increases in fat mass. This change in body consumption not only causes men to shop for more comfortable pants but also facilitates increased survivorship and, hypothetically, a hormonal milieu that would more effectively promote and support paternal investment."
So … what about mombod?