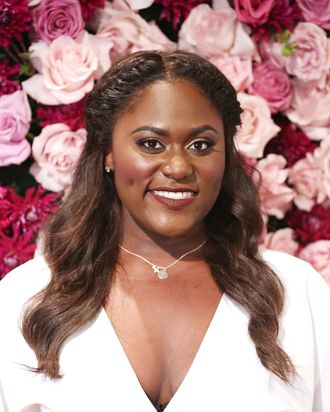 Danielle Brooks
Photo: Walter McBride/WireImage/Getty
Today, the average woman in America wears a size 16. In fact, 67 percent of women wear a size 14 or higher. You wouldn't know this by looking at the majority of images displayed across brands, ads, and yes, even media outlets. To amend this, Refinery29 tapped Litchfield Penitentiary's most lovable inmate, Orange Is the New Black's Danielle Brooks, as ambassador to the 67% Project — a campaign for plus-size representation. Here, Brooks spoke candidly with the Cut about how the lack of plus-size representation within the health arena is frustrating, why she never exercised while growing up, and how social media is the best wellness shortcut.
How I start my day: My body naturally wakes up around 7 or 8 a.m. I have so much natural sunlight that comes in, so I'm up. The first thing that I do in the morning is stretch while I'm in bed. And then I go eat breakfast. I normally grab egg whites, turkey bacon, and some fruit. I like watermelon, mangoes, and grapes, so I'll make a fruit platter with those. For lunch — well, today, I'm eating a tuna melt with some spinach and Brussels sprouts. I always have a tea with honey. And water, water, water, water. I'm trying to drink a gallon of water a day, but I'm not always succeeding.
I'm constantly making sure I do things that serve me for the day. It's very important for me to eat healthy because I have to make sure that my voice is strong, and I have to make sure my body is strong to do all of the things I have to do — specifically, doing a Broadway show, which is very demanding.
I'm about to go on a juice fast for ten days. I'm really excited about that. The whole point is to drink a gallon of juice and a gallon of water a day. I want to cleanse my body because I just had my birthday and ate a lot of cake! It's all about balance. I'm not into depriving myself, but I also want to make sure that I don't end up having diabetes down the road. I have to thank you for allowing me to talk about wellness, because it's important for women to see all representations of that. Sometimes magazines get caught up in only having sizes 2 and 4 talk about health. But there are women out there that are size 28, size 20, that need to see representations of themselves. That could be more inspiring to them than a size 2 who is so far away from the size that they are now.
How I like to sweat: Sometimes I'll get up in the morning and meet my trainer in the park and we'll do kickboxing. And I love to SoulCycle. It's very important for me to take care of my body. I didn't exercise when I was growing up. I always wanted to join a sport, like I really wanted to do volleyball, but my mother found an incredible acting program for me to go to instead. It was a boarding school that didn't have sports at all, so I didn't have the privilege of being active in that way. When I went to college, every morning we took an exercise class. That started me really being able to take care of my health and see the importance of that. Once I graduated, I didn't work out as much because I didn't have much money. I joined Planet Fitness because it costs like $10 a month, and then I got into it.
The thing that I love about acting is that I feel like it always challenges me to be my best and to take care of my health and be aware of what's going on in the world. I'm juggling three jobs on top of doing press, guest spots, and auditioning, and I'm also trying to be a normal human being and wash my clothes and make sure my house is clean. It's a lot to take care of, but the only way to do that is to take care of your temple first and that's your body.
To me, wellness means: I think of it as your temple, your body. That also means taking care of your spirit. Whether that's meditating, praying, whatever keeps you grounded and sane. It's also a physical thing — working out and all of that.
How wellness has changed for me: Seeing my peers like Ashley Graham working out, and seeing them post things on social media has really been helpful for me. For me, seeing somebody that's so far away from my body type can be kind of discouraging because you feel like, Dang, I got 60 pounds to lose!
I don't know how I'm supposed to run a marathon, but Shape magazine asked me to be a part of the women's marathon this year. All they asked me to do was run a mile. I can't tell you how inspiring that was because I had never thought about that. To see all these women of different ages, different sizes out there running this half-marathon … and I got to be a part of it?
It encouraged me to do a challenge on my Instagram called #ThickGirlsRun. It was my challenge to myself and to anyone that wanted to participate to run a mile a day for two weeks. That, to some, might not be much, but for me that was a lot. I'm encouraged by what women are doing out there and in turn, I hope that when I do something about it, other women are encouraged.
My wellness struggle is: Consistency. Because my lifestyle isn't consistent, it's very easy to make excuses for bad food and drink choices. It's so important to have balance. If I get up at five in the morning and I have to shoot Orange Is the New Black and then go do The Color Purple at night and don't get home until midnight, I need to rest. That's also part of wellness, getting some sleep.
My wellness shortcut is: Finding ways to be inspired again and finding ways to pep-talk myself into choosing to better myself. I make a conscious effort on who I follow on social media. I follow people who are healthy. I follow food brands that are all about eating fruit and veggies or how to cook healthy. Those are the kinds of ways that I do it.
My wellness advice is: Stay positive about who you are and stay positive about your body. I think it's really easy in this society to be discouraged and want what others have. Find the beauty in who you are and know that you only have one body, you only have one spirit, one mind. Take care of that and learn to love that which you have because, like they say, the grass is greener on the other side. It's important to love you and get to know you. When we do that, the world really opens up to us and we receive what we need. What we need, if we pay attention to that, will make us more happy than the things that we want. Because that kind of stuff comes and goes.
This interview has been edited and condensed.