Since yesterday, when Maria Grazia Chiuri showed her first collection for Dior at the Rodin Museum, my thoughts have jumped about like the bumblebees embroidered on her shirts. Indeed, this morning, after a bath and a cup of coffee, I find that only one thought is truly stable: I hate fencers' jackets, almost as much as I hate a fencing theme. Grazia bowed to them: The first model, the Peter Pan–like Ruth May, wore one with a pair of white pedal pushers. In her show notes, Chiuri said she wanted to strive for a fashion "freed from the stereotypical categories of 'masculine/feminine,'" but what is more hackneyed than a fencer's outfit?
Also putting a bee in my bonnet (sorry) was her feminist fist-pump on the runway, expressed with a T-shirt that said "We should all be feminists." Some of this was perhaps to be expected — Chiuri is Dior's first female creative director in 70 years. But the expression is naïve. After all, it's not as if respect for women has been notably lacking at Dior, or generally in couture, where pioneers like Madeleine Vionnet, Coco Chanel, Alix Grès, and Jeanne Lanvin, all independent women, surely deserve to be called feminists. In fact, one can argue that the making of intelligent, well-crafted clothes for all types of women — lean or plump, trophy wife or corporate executive — is a feminist act. In the sophisticated world of high fashion, then, it's a given. I just hope that Chiuri drops the sloganeering and gets down to making her couture sisters proud — by creating compelling clothes.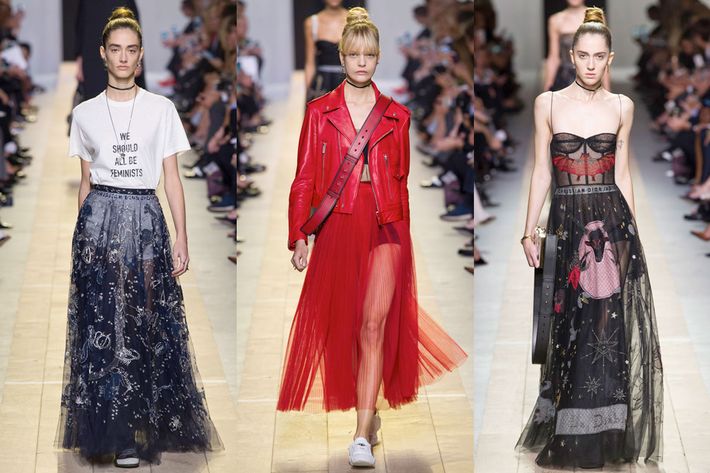 What I did admire about her first collection was that she widened Dior's lens. She included jeans, worn with cute, frilly lace tops, and layered tulle skirts, which she made casual with flat boots and leather jackets. She softened the lines of the famous Bar jacket, and she put simple crewneck sweaters with tulle princess skirts. And I thought her passage of embroidered tulle evening dresses — lightly done with zodiac symbols, in shades of pink, black, and beige — was lovely and unexpected.
Chiuri's predecessors, namely Raf Simons and John Galliano, paid homage in a sense to Christian Dior's New Look, even as they modernized it — Simons, for example, with daytime skirts gathered softly to one side or peplumed bustiers over cigarette pants. When Chiuri prepares her first haute couture collection, for January, she may well dig into the New Look, but for her first ready-to-wear show she was absolutely right not to feel obliged to follow that line. As a result, her clothes have a more relaxed attitude that may attract more young women to the brand, while also giving Chiuri and her design team more ways to play.
In the past, Dior has put jeans on the runway — in Hedi Slimane's men's shows and in several Galliano collections, notably one he did based on Lauryn Hill. But there was little consistency. And since then the world has gone extremely casual. Chiuri, then, has an opportunity to both be relevant and broaden Dior's scope. With the pressures facing the luxury-goods business — from competition to crazy pricing to distracted consumers —that's crucial.