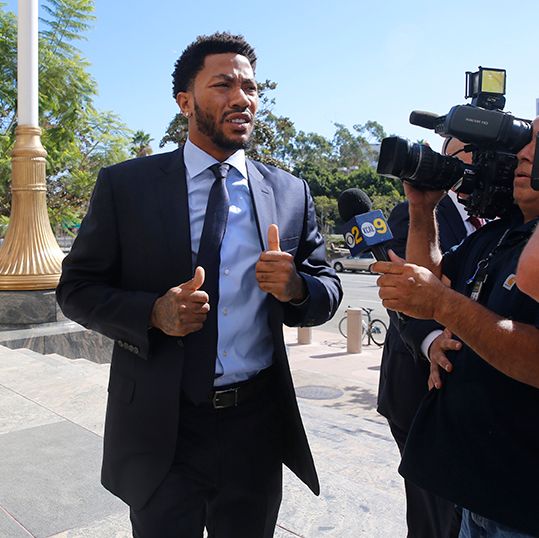 Derrick Rose attends his civil trial.
Photo: Damian Dovarganes/AP
On Thursday, the woman who has accused NBA player Derrick Rose of gang rape testified against him in a civil trial. The woman, who dated Rose on and off for about two years, says Rose invited her to a party at his Beverly Hills home back in 2013. While at the party, the woman claims she was drugged; later, she says Rose and his friends followed her back to her apartment and raped her.
Rose reportedly entered the courtroom as the woman was testifying. When she saw him, she "paused and became emotional," the Guardian reports. She recounted her story, saying she felt "less in control, more goofy" after taking three shots of tequila at Rose's house.
"The plaintiff will tell you all three men were in the bedroom at the same time," said her attorney, Waukeen McCoy. "Each of them took turns raping her, they don't even know who went first."
According to the Guardian, an attorney for Rose's friends, Randall Hampton and Ryan Allen, objected to the amount of crying the alleged victim was doing on the stand:
During a break in testimony, a lawyer for the two friends objected to the woman's amount of crying and asked the judge to order her to not cry. The judge said he was unaware of courts that have ordered witnesses not to cry.

"I'm not going to order the witness not to cry any more than I'm going to order her not to breathe," said US district judge Michael W Fitzgerald.
No physical evidence will be presented at trial because the plaintiff didn't report the alleged rape until two years after the fact and was never examined by a doctor. As such, the jury will have to rely on her word against the word of the three defendants. The Los Angeles Police Department has confirmed that a criminal investigation against Rose is also pending, but so far no charges have been filed.