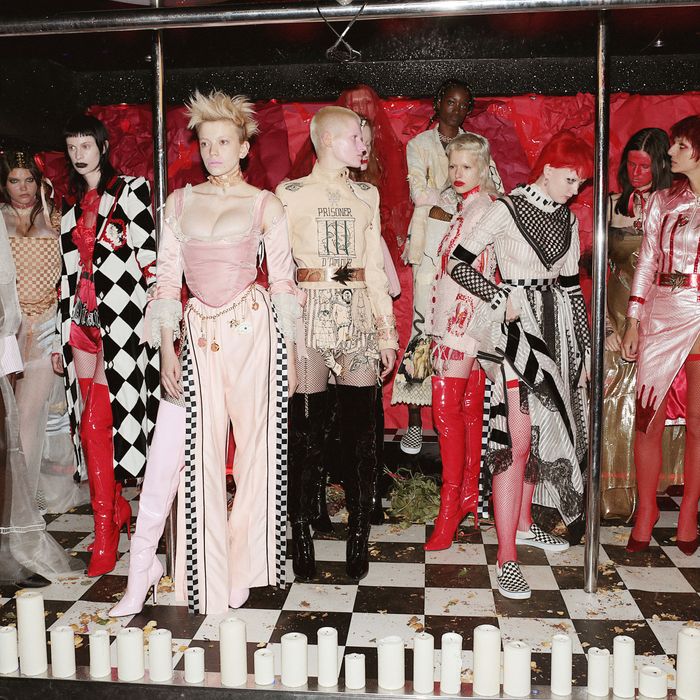 Dilara Findikoglu's presentation at London Fashion Week.
Photo: Federico Ferrari/Courtesy of Dilara Findikoglu
Holding your first-ever fashion show at a London strip club — in the morning — is a bold move, but for Dilara Findikoglu, the choice wasn't just about cheap provocation. "The whole collection was about women's skin and how it was represented throughout history," the designer explains. "I was like, 'I want to put my clothes where women's skin is shown." She adds, "And I have a huge respect for strippers anyway. I think they're so brave."
Showing off-piste from the major venues is straight out of the Central Saint Martins alum's playbook. After being inspired, in part, to apply there because it was John Galliano's alma mater and "if he went there, [I thought] that must be a good school," she graduated last year. (After, NBD, logging an internship with Galliano himself, whom she describes as "super chill.")
But she didn't make it into the school's notoriously selective graduate show, owing to what she calls "loads of politics." Undeterred, she helped organize #encoreCSM, an alternate show that won her plaudits from U.K. buyers and press. Looking back, she says, "I'm so happy that they didn't choose me. Since the beginning, I always found my own lane, my own way of doing things. It wasn't given to me, so I was like, 'Okay, I'll just do my own thing.'"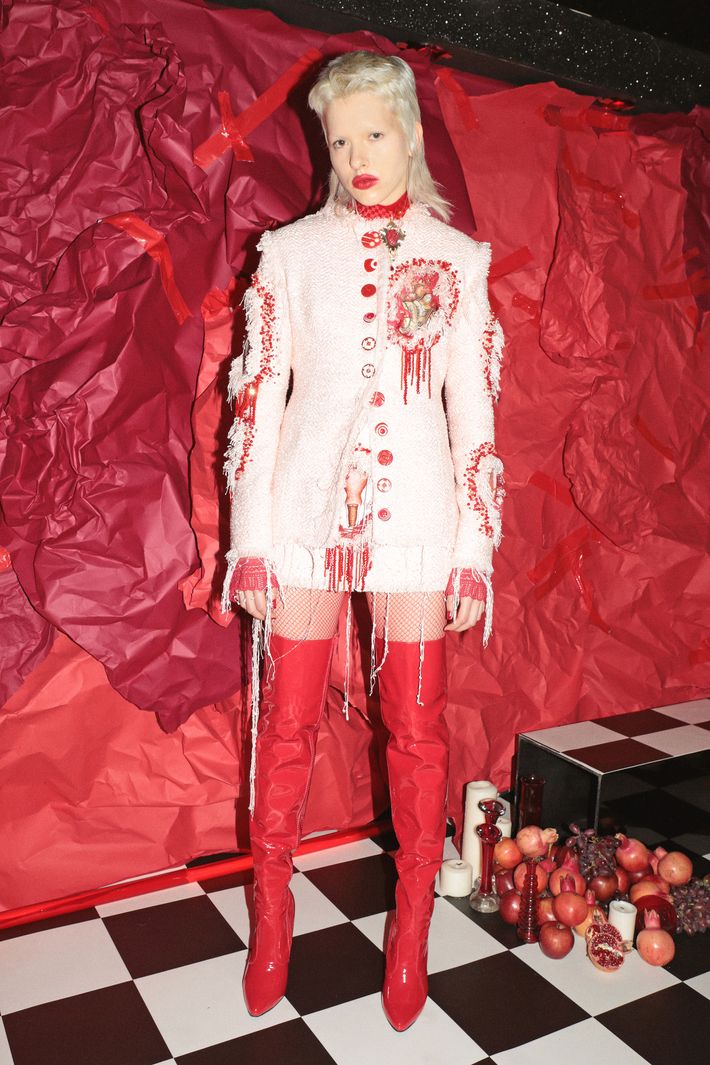 She quickly made contacts high up in the industry. Prior to her London Fashion Week debut, Findikoglu was busy customizing one of her corset designs for Rihanna to wear as Marie Antoinette on the cover of CR Fashion Book.
Findikoglu isn't the only designer to be drawn to the 18th century this season; Rihanna herself said her Fenty collection was inspired by the tricky-to-envision concept of "Marie Antoinette working out." But don't confuse her designs with historical costume. "I'm inspired by history in general. I am not obviously trying to replicate [the past], but I'm just trying to present it in my own way. The craftsmanship and details and the amount of work that went into these garments, I think, are more special than [what's] being made now." She was careful to contextualize those pieces, mixing corseting and panniers with '70s-glam-rock elements and faux tattoos.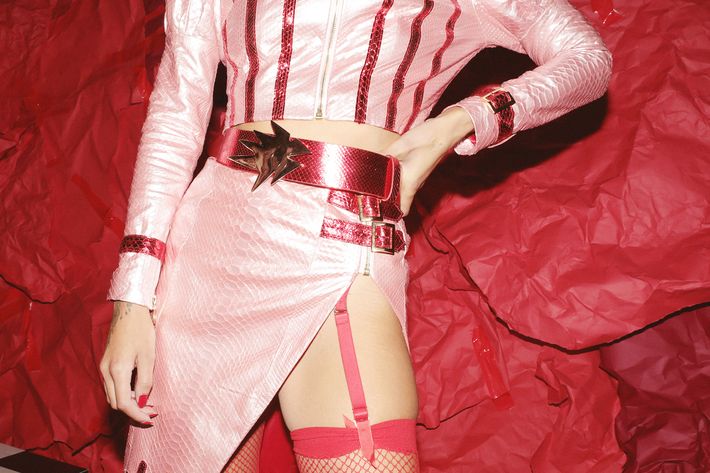 She also looked to "women who lived in different eras and how they were treated." Not just Marie Antoinette, but Queen Elizabeth I and Queen Victoria, as well as more recent figures like Çilem Doğan, who became a cause célèbre in the designer's native Turkey after killing her husband in self-defense.
"I'm not supporting what she's done, but I think it was a big act, because normally women don't react and they can't even divorce their husbands," she says. "That really touched me because I come from the same background. I don't come from a super traditional, religious family, but I can remember that same atmosphere. I know how it feels."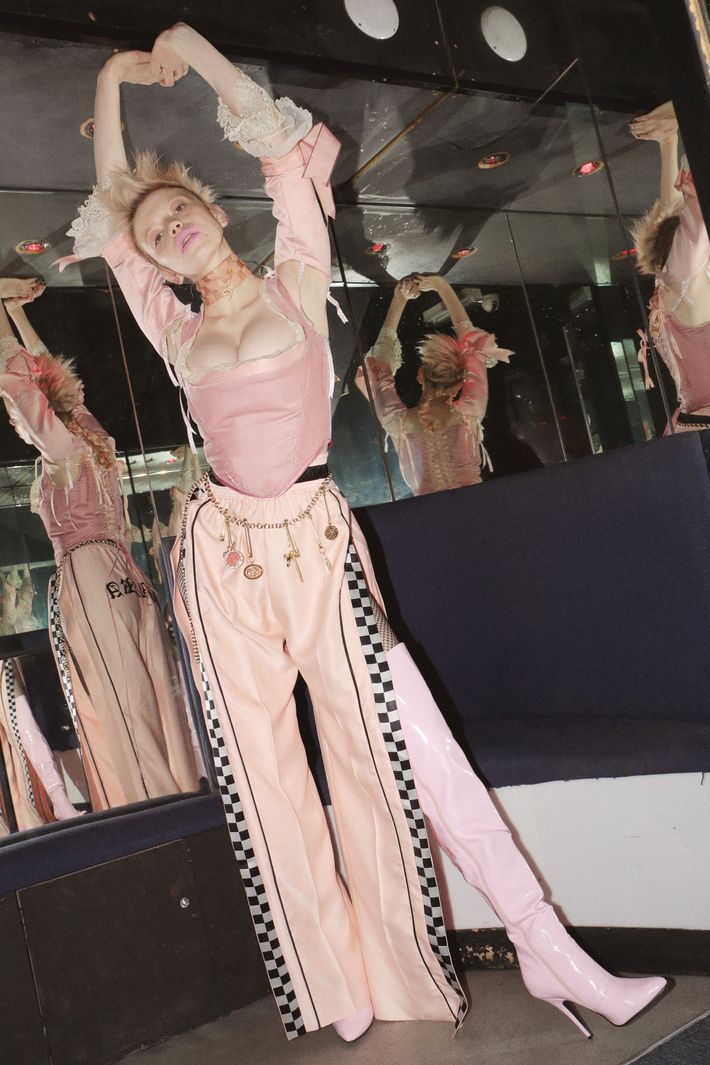 The designer also went deep into exploring and tweaking traditional femininity (yes, there was plenty of millennial pink on display in the collection). "I was trying to stay away from 'girly' stuff before," she says. "If you look at my old work, it's a bit darker. This time I used pink because I think it's quite a sickening color and it's the color of childhood — it's what you're forced to like as a child. I wanted to use pink, but in a bit darker way." (Like, for example, embroidering candy-pink ovaries onto a pair of briefs.)
She cast Adwoa Aboah, the model and Gurls Talk founder whose outspoken feminism "works really well with all the things I'm trying to say." And she made a point of picking models with different body types, because she didn't want to send the message that her "work is only good on one kind of woman."
Findikoglu is wary of what she calls "activist" fashion, though. "There's a bunch of people trying to do that 'Oh, yes, this is about, you know, this deep shit,'" she says. "But then your clothes look like shit as well. I'm talking about some significant issues, too, while I'm making beautiful clothes. Rather than just making super nice stuff that doesn't mean anything."
Right now, Findikoglu is busying herself with designs for musicians, which have become a big part of her operation. When we speak, she's in the midst of making a suit for Lady Gaga, and has designed tour costumes for CL. Grimes and FKA Twigs have also worn her work. "People don't really want to wear some of my stuff on the street," she says, laughing. Designing for pop stars is "really exciting because I can go as crazy as I want to."
In her ideal world, everyone would dress as flamboyantly as Gaga and company. "People have to be a bit more brave," she insists. "Everyone looks the same. I hate it. That's why I like London, because there's a bit more excitement. Here, I go out in stockings and underwear and no one looks at me. I love that."