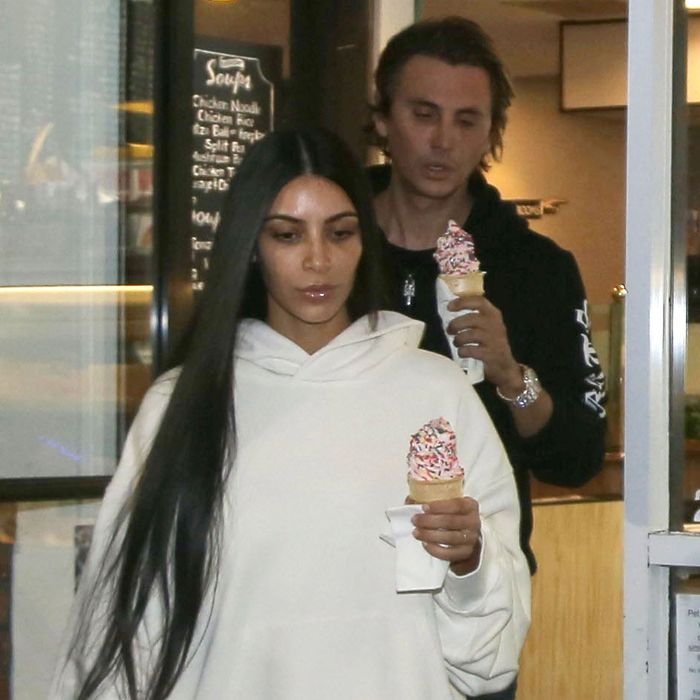 Kim Kardashian and Jonathan Cheban.
Photo: Brian Prahl/Splash News
Since she was robbed at gunpoint in her Paris hotel room on October 3, Kim Kardashian has remained silent on social media and avoided public events. Last week, however, she started to rebuild her image on her own terms. She resumed filming Keeping Up With the Kardashians, her reps confirmed, and she attended her husband Kanye West's concert in Los Angeles. Crucially, she made her first appearance for the paparazzi last Monday, at a frozen-yogurt shop with her friend and self-described "Food God" Jonathan Cheban. She was wearing considerably less makeup than normal, an oversize sweatshirt, and a glum expression. Last night, "Page Six" suggested oh-so-scandalously that the outing was "staged."
Of course it was. Kardashian is nothing if not a master of her own image, and she is obviously trying to control how she comes back into the spotlight after a traumatic event. This is not a bad thing. She knew that something would be sold as "Kim's first post-robbery photo," and she decided that "sad frozen-yogurt trip" would be it. The "Page Six" "marketing pro" source got more specific: "That was a staged photo to portray Kim as likeable — a shot where she wouldn't be wearing makeup, and not [be plugging] any brands." Also: "She doesn't even eat yogurt — she is on Atkins." (Kardashian is a paid spokesperson for the diet and has credited the plan for her postpartum weight loss. She did not eat the yogurt in front of the paparazzi.)
Amazingly, Kardashian's rep responded to the "Page Six" report to argue that the fro-yo outing was spontaneous. "She wanted to get out of the house with a friend," the spokesperson said. "As far as being on Atkins — sometimes people have treats while on their meal plan." The rep also noted that paparazzi are known to hang out around the frozen-yogurt shop.
So … that's not much of a denial. Even if Kardashian did not directly coordinate with the paparazzi for the shots, she admittedly went to a location where she knew she would be photographed. She even did her friend a favor in the process: The photos will help Cheban, who is trying to make it as some kind of professional foodie, with his brand.
In the coming weeks, Kardashian will have to continue to make decisions about how much of her life she wants to share with the public. But they will be, for the most part, her decisions. Celebrities know when they're being photographed, and nobody is more aware of the camera than Kim.