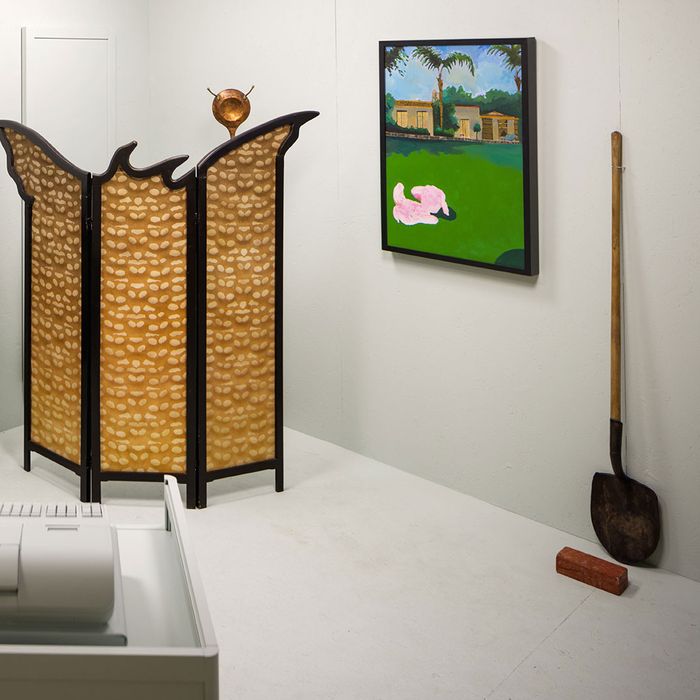 Photo: Courtesy of the GALA Committee/Red Bull Studios New York.
Are you one of those unfortunate millennials who just missed the cutoff to watch Melrose Place when it aired, but also yearn to legitimize the '90s-normcore aesthetic that you cribbed from shows like this one? Well, do we have the art exhibit for you.
TOTAL PROOF: The GALA Committee 1995–1997 displays the subversive sociopolitical props that the art collective planted on the Melrose Place set from 1995 to 1997. Melrose Place aired its last episode in 1999, but during those two sweet, sweet years, conceptual artist Mel Chin and the GALA Committee worked in tandem with the producers to sneak images onscreen like unrolled condoms (a big no-no at the time), pointillist paintings depicting police brutality, and a birth-control pillbox. For the first time, these works are now on view at Red Bull Studios New York in a free exhibit that will run through November 27.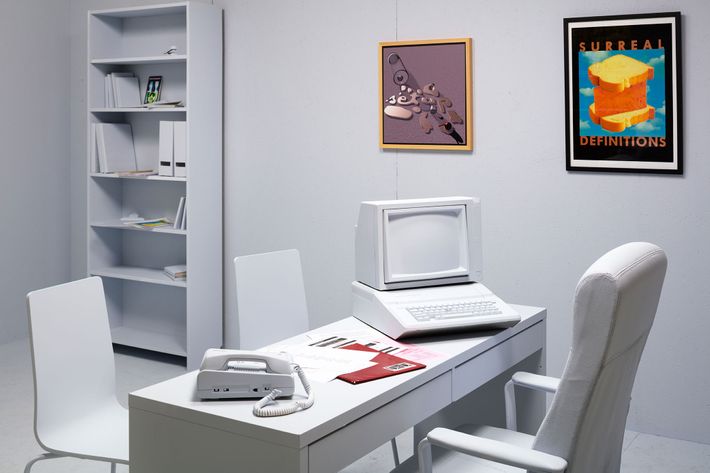 Many of the show's characters held jobs at D&D Advertising. On the office wall, the GALA Committee placed a surreal print referring to a comment one U.S. Army official had made about the Rwandan genocide, in a 1995 New Yorker story: "Genocide is a cheese sandwich. What does anyone care about a day-old cheese sandwich?"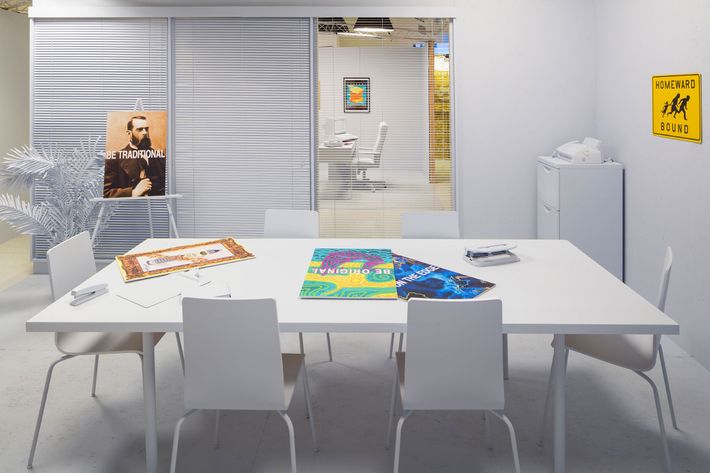 Another shot of some of the props planted at D&D Advertising.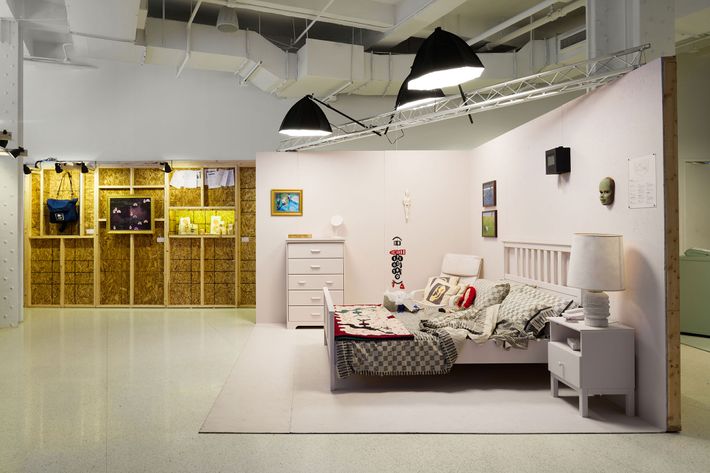 In one of the bedroom's featured on the show, the GALA Committee made a bed out of "safety sheets," sheets that were screenprinted with images of unrolled condoms; a quilt printed with the chemical structure RU-486 (otherwise known as the abortion pill); and so-called Ear Pillows, which were inspired by "19th century Russian Dr. Pauline Tarnowsky's anthropometric study of prostitutes, documenting perceived facial anomalies that she believed made certain women pre-disposed to sex work."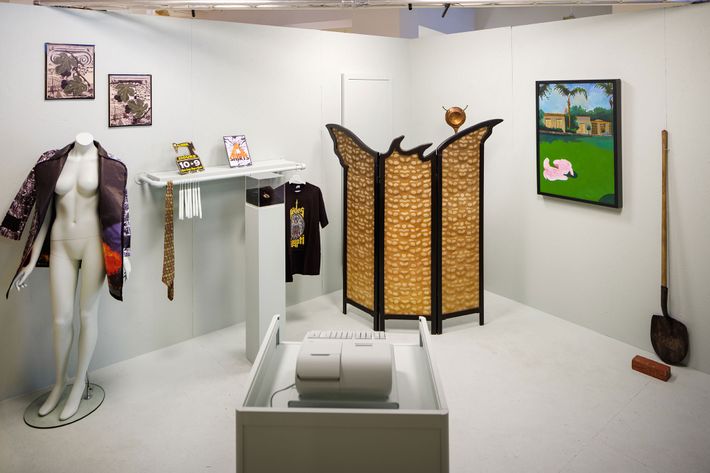 Jane's boutique featured a raincoat lined with images of explosive fire from the 1993 Waco, Texas, bombing; bolts of cotton that referenced violations committed against female textile workers at the Triangle Shirtwaist Factory; and a Hockney-esque painting inspired by a police photograph of Marilyn Monroe's home the day after her fatal drug overdose.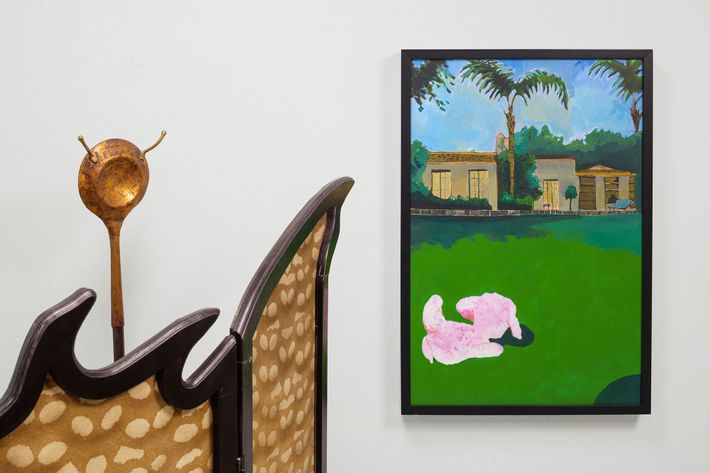 A close-up shot of the Hockney-esque painting inspired by Marilyn Monroe's fatal drug overdose.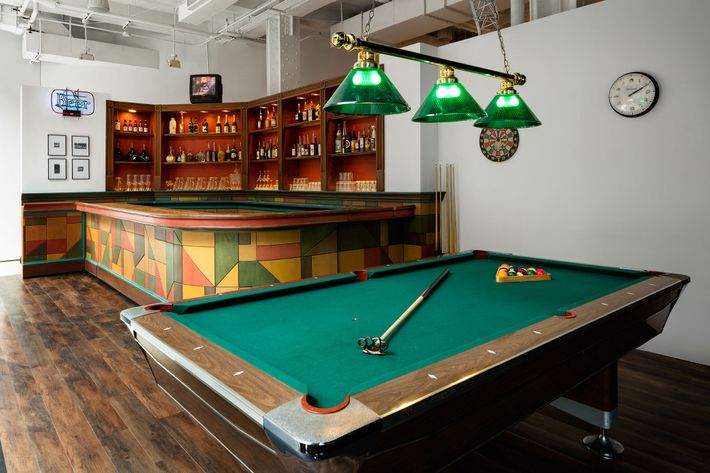 At Shooters, the bar where characters from the show used to hang out, the "sissy stick" (a bridge used with a pool cue) was converted to brass knuckles; the white eight-ball was replaced with an emblem from the African continent; and a dartboard alluded to the target female audience of the show, who were 18 to 49.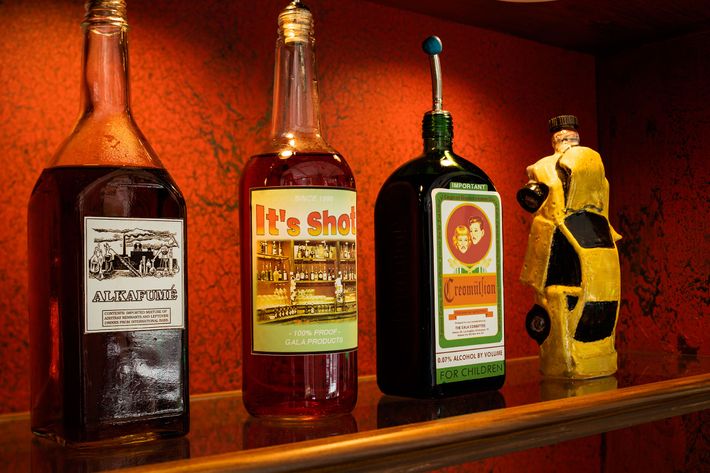 A close-up of some of the liquor bottles hidden on the Shooters set.