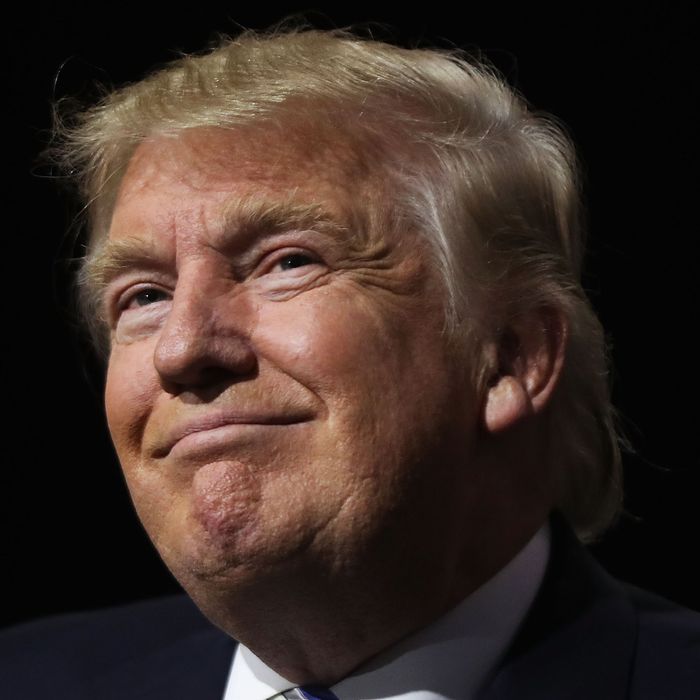 Donald Trump.
Photo: Spencer Platt/Getty Images
Donald Trump's original accuser Jill Harth has vowed to countersue the Republican presidential candidate for emotional hurt and loss of income, if he follows through on his recent threat to sue the many women who have accused him of sexual assault.
Harth, a makeup artist, first filed a lawsuit against Trump in 1997, accusing him of groping her and sexually assaulting her in his daughter's bedroom, a claim he has denied. However, since the release of a video in which Trump bragged about grabbing women by the pussy, a number of other accusers have come forward. At a campaign stop in Pennsylvania on Saturday, Trump said that "all of these liars will be sued after the election is over."
In a letter from her attorney dated October 23, Harth wrote that she had kept quiet about Trump for many years because he settled her 1997 lawsuit, and that she only began speaking out about the harassment after he called her a liar several months ago. "If he sues me, I know that truth is an absolute defense, and I will countersue for the emotional hurt and loss income his attacks have caused me," Harth wrote.
Her attorney, Lisa Bloom, wrote that she stands by Harth, and that her firm will "proudly" represent any other accusers sued by Trump and crowdfund the defense costs. Bloom also wrote that with the lawsuit, she would take a deposition of Trump and his "enabler," and that she would subpoena business and personal records, as well as any potential footage in which he brags about sexual assault.
"I reject Donald Trump's effort to intimidate and silence women," Bloom wrote.