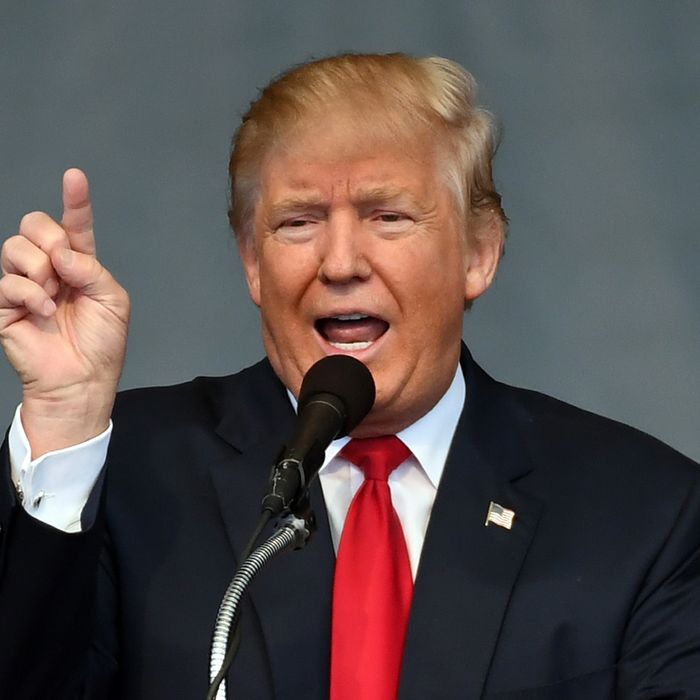 Donald Trump.
Photo: Ethan Miller/Getty Images
In a news-filled weekend where the top stories centered around Donald Trump's comments about women in a 2005 video, USA Today published another report about the candidate and women. Except this time, the story was about the history of litigation his companies have faced over the years for alleged mistreatment of women employees.
The story is part of an ongoing investigation into the 4,000-plus lawsuits Trump has faced and was published Sunday evening, just before the second televised event between the candidate and Hillary Clinton. USA Today lays out a history of litigation his companies have faced and cites examples that go back years. "Allegations outlined in at least 20 separate lawsuits accuse Trump and managers at his companies of discriminating against women, ignoring sexual harassment complaints and even participating in the harassment themselves," according to the story.

The lawsuits ranged in severity and not all involved Trump directly. In one instance, Trump directed a female supervisor at a golf club to hire prettier women. "I want you to get some good-looking hostesses here," Trump told Sue Kwiatkowski, a supervisor at the club, according to USA Today. She added he also said, "People like to see good-looking people when they come in." In another lawsuit, a waitress alleged that Trump repeatedly flirted with her.

Notably, USA Today also discovered at least three lawsuits where women detailed losing their jobs at a Trump company after they complained about sexual harassment or discrimination at work.

The full story is here.