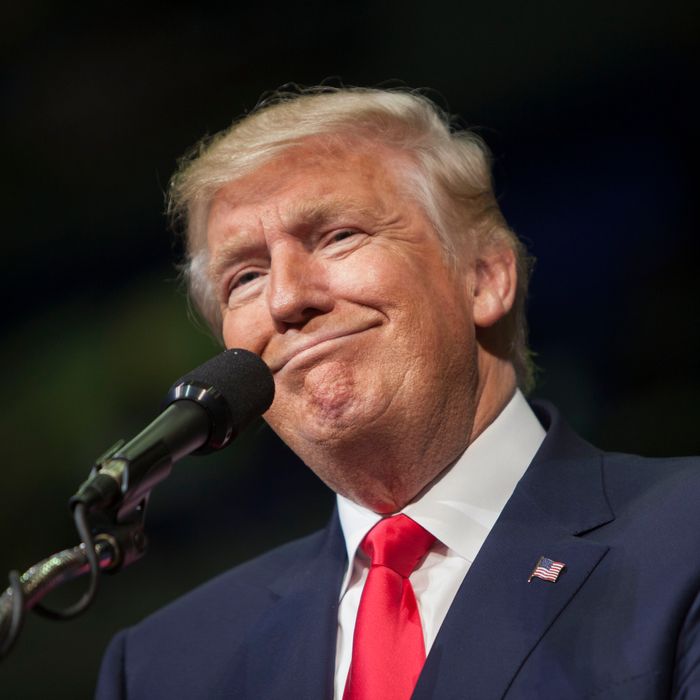 Donald Trump.
Photo: Jessica Kourkounis/Getty Images
Old video footage CBS unearthed on Wednesday captures Donald Trump once again commenting on the appearance of someone of the opposite sex. Except this time, instead of directing his comments at a pageant queen, political candidate, or cable-TV journalist, it was a girl who appeared to be about 10 years old. Upon seeing the girl, Trump joked: "I'll be dating her in 10 years. Can you believe it?"
This isn't the first time that Trump has made remarks about preteens and young women, either. As CBS points out, he's infamously remarked that if he wasn't Ivanka Trump's father, she's be a potential date. "I've said that if Ivanka weren't my daughter, perhaps I'd be dating her," Trump said in 2006. He also told Howard Stern that it was okay for him to call Ivanka a "piece of ass."
A young Paris Hilton also caught Trump's eye back when she was only 12. "I've known Paris Hilton from the time she's 12, her parents are friends of mine, and the first time I saw her she walked into the room and I said, 'Who the hell is that?'" Trump told Stern in an older interview, according to the Huffington Post.

News of the video comes as Trump is facing allegations from at least four women that he groped or kissed them without their consent. Trump is also still facing political backlash from the 2005 video that surfaced over the weekend featuring him speaking crudely about women with Access Hollywood's Billy Bush and boasting about sexual assault.