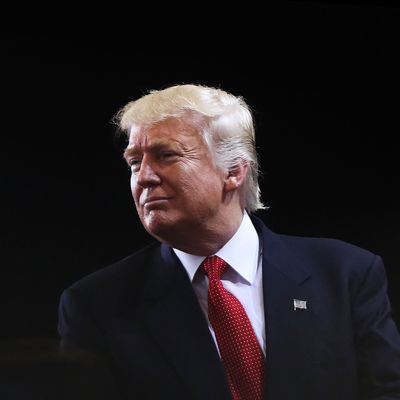 Nightmare fodder.
Photo: Spencer Platt/Getty Images
BuzzFeed News reports that Donald Trump made an appearance in a soft-core porn video produced by Playboy in 2000, making him the first major-party presidential candidate in American history to have appeared in a porn video. BuzzFeed stresses that the appearance in Playboy Video Centerfold: Playmate 2000 Bernaola Twins is "relatively benign" since he does not appear in an explicit scene, but the footage nonetheless emerged on the same day that Trump had asked the country to "check out" a (nonexistent) sex tape featuring former Miss Universe Alicia Machado in a late night tweet, which made him the first major-party presidential candidate in American history to ask voters to watch a sex tape, as well.
The scene in which Trump appears has him welcoming several Playboy playmates to New York, where they have come to look for the 2000 Playmate of the Year. "Beauty is beauty, and let's see what happens with New York," Trump says before he pops a bottle of Champagne onto the playmates' limo. BuzzFeed notes that other parts of the video, which was marketed as a "sensual journey of discovery," include "fully nude women posing in sexual positions, dancing naked, touching themselves while naked, touching each other sensually, rubbing honey on themselves, taking a bath, and dressing in costumes." You can watch Trump's safe-for-work cameo here, and here is what the video packaging looked like:
The 2000 video isn't Trump's only association with Playboy either, since he appeared on the cover of a 1990 issue of the magazine, and even posed in front of a framed copy with some evangelical Christian leaders earlier this year.
The Clinton campaign responded to the news of Trump's Playboy video appearance by mocking the candidate. The Washington Post reports that Clinton spokesman Nick Merrill told a group of reporters on Friday that, "There's been a lot of talk about sex tapes today, and in a strange turn of events, only one adult film has emerged today, and its star is Donald Trump."
Trump had referred to a sex tape, which doesn't exist, starring former Miss Universe Alicia Machado very early Friday morning on Twitter in an attempt to discredit Machado, whose recollection of Trump fat-shaming her in 1996 was made a major campaign issue for Trump this week after Hillary Clinton mentioned Machado's story during Monday's debate. Trump also, in referring to the sex tape, called Machado "disgusting" and asked voters to consider her "past" (which includes a pair of appearances in the Mexican edition of Playboy).
Trump signed a pledge in July that he would crack down on pornography if elected president, and has also said that he didn't have a problem with Paris Hilton's infamous leaked sex tape, which his wife, Melania, showed him, noting that Hilton's tape "is probably unfortunate and it made Paris hotter in terms of the world because the world is so screwed up." In addition, amidst a 2009 feud with fired Miss USA contestant Carrie Prejean, Trump said that Prejean should release a sex tape she had made at the age of 17, telling Extra that, "She's trying to act like she's a nun … so maybe she should release the sex tape and people would see whether or not she is a nun."
Trump also had this to say, in his 1990 Playboy interview, about the then recent charges that boxer Mike Tyson was abusive of women and participated in "sexual escapades" (Trump had made a lot of money off of Tyson fights in his hotels and casinos):
It's unfortunate for one of the great fighters in history to have all this crap hanging over his head. Or for politicians, for that matter. We're living in an age when there are no boundaries left, which is unfortunate for our country. The problem is, we're going to lose good talent because somebody likes looking at pretty women or pretty men.

Somebody's sex life may mean absolutely nothing to the job at hand, but when the written word gels out, we lose somebody good and the country goes to hell. I know politicians who love women who don't even want to be known for that — because they might lose the gay vote. OK? If this is the kind of extreme we're heading toward, we're really in trouble.
Tyson was later arrested and convicted for raping an 18-year-old beauty queen in 1991, who Trump would later say deserved blame for going to Tyson's hotel room the night of the rape.