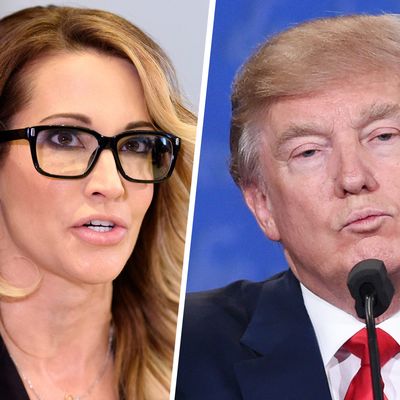 In a new radio interview, Republican presidential nominee Donald Trump denied sexual harassment accusations made by adult performer Jessica Drake at a press conference on Saturday. Drake, the 11th woman to come forward, says she met Trump at a Lake Tahoe golf tournament in 2006, where he tried to buy time with her for $10,000 after she rejected his physical attempts to grab and kiss her.
In response to a series of questions on the radio program New Hampshire Today concerning whether or not he defends himself too much, Trump again brushed off the allegations as purely fiction:
These are stories that are made up, this is total fiction. You'll find out that, in the years to come, these women that stood up, it was all fiction. They were made up. I don't know these women; it's not my thing to do what they say. You know I don't do that. I don't grab them, as they say, on the arm. 
One said, 'he grabbed me on the arm.' And she's a porn star. You know, this one that came out recently, 'he grabbed me and he grabbed me on the arm.' Oh, I'm sure she's never been grabbed before.
Of course, nobody deserves to be sexually assaulted, no matter their line of work. But Trump maintains his innocence in this incident. "It's all lies, it's all lies," he said. "It was made up, it's like dripping water."