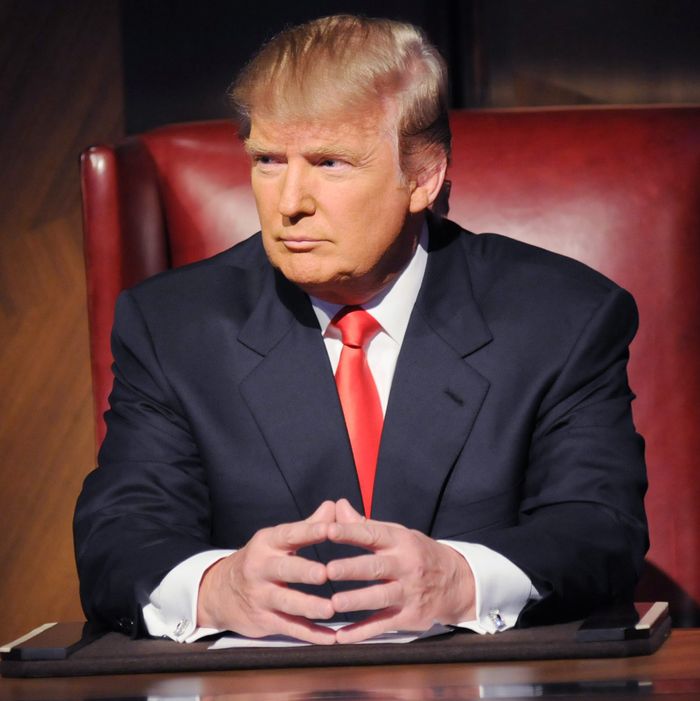 Photo: Ali Goldstein/NBC via Getty Images
In yet another damning look at Trump's history of sexist behavior, 20 former cast members, crew members, and editors on The Apprentice spoke to the AP about Donald Trump's treatment of women on the long-running reality show, with many describing repeated incidents of inappropriate conduct.
A number of the interviewees recall Trump making lewd comments about women's bodies, discussing which contestants he would have sex with (he reportedly speculated over which contestant would be a "a tiger in bed") and asking male contestants to rate how hot their female counterparts were. He also asked contestants to wear more revealing outfits and made one contestant "twirl" for him so he could check out her body.
"If there was a break in the conversation, he would then look at one of the female cast members, saying 'you're looking kind of hot today, I love that dress on you,' then he would turn to one of the male cast members and say 'wouldn't you sleep with her?' and then everyone would laugh," said a former crew member.
Former producer Katherine Walker recalls Trump asking her whom he should fire at the end of one episode, and then cupping his hands around his chest to indicate a contestant with large boobs. "He said, 'You mean the one with the' — and he puts his hands out in a gesture to signal the girl with the giant boobs. He didn't even know her name," said Walker.
Eight former crew members said that Trump took a particular shine to one female camera operator (who declined to speak to the AP), sometimes stopping production in order to comment on her looks.
"I remember being in the foyer once with eight or 10 cameras set up and he said something about her being so pretty. He would make it about his line of sight, like 'There is a beautiful woman behind that camera, so I only want to look at that.' It was supposed to be considered a compliment, but of course it was inappropriate," described Rebecca Arndt, a former camera assistant. "He would just mention it all the time. I remember him comparing Ivanka to her and saying that only Ivanka was prettier."
The AP's sources describe how Trump seemed to exist in a bubble that insulated him from the acceptable norms of workplace behavior.
"Most men have to behave because they are in a workplace, but he could do what he wanted," said former contestant Tyana Alvarado. "In all jobs, people have to sign sexual harassment paperwork, but Mr. Trump was putting on a TV show so he got to do it."