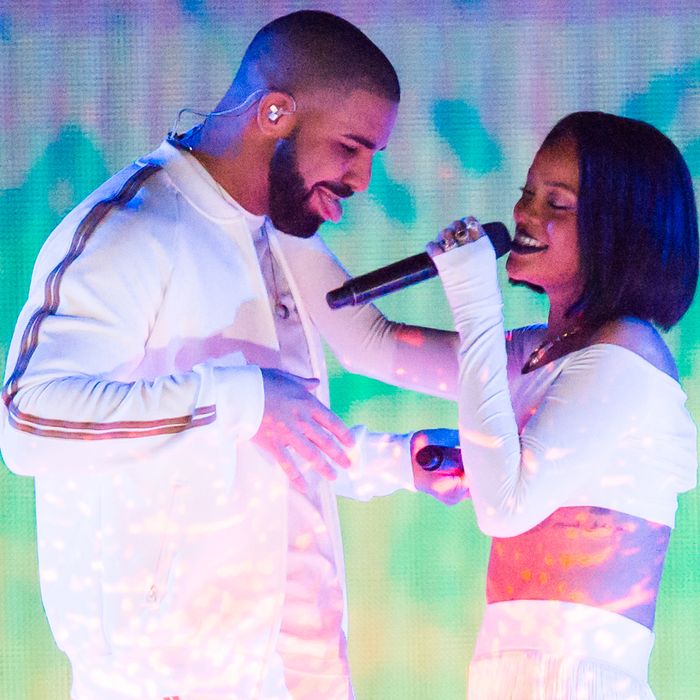 Aubrih may be no more.
Photo: Samir Hussein/Redferns
AubRih fans should probably take a seat for this one. The summer romance between Drake and Rihanna — which included declarations of love, matching shark tattoos, and coordinating paparazzi outfits — has apparently fizzled. According to E! News, AubRih is no more, as the couple has called it quits on being exclusive and are dating others.

"Rihanna and Drake are seeing other people at the moment," an insider told E! News. "They are not exclusive anymore. They still love each other, but their schedules have gotten in the way." Hmmm. As far as competing schedules go, Drake has been in recovery mode recently after an ankle injury and postponed tour dates. RiRi, on the other hand, has been spending time with family in Barbados.
While there's no news of a particular new bae for RiRi, it looks like Drake has been getting cozy with a model by the name of India Love (who, for the record, has two tattoos eerily similar to Rihanna's — just sayin'). Bossip reported last week that she's joining Drake on tour, and another insider at E! News said that she and Drizzy have been together for a few weeks. They were most recently spotted watching the Toronto Blue Jays and looking "very coupley."
Fans who've closely watched RiRi's social-media feed this weekend perhaps already had an inkling that things were amiss. RiRi posted a cryptic message on Instagram over the weekend, declaring that she's not the problem if her exes haven't been successful in finding lasting love. Which in RiRi speak is probably the closest we'll get right now to a "I'm pissed, but remember: I'm the trophy here." Because, for what it's worth, India Love's ex is Cliff Dixon, someone who reportedly cheated on her with Rihanna. "Drake could be hooking up with India Love now to piss off Rihanna, which has clearly worked," the insider told E! News. Yikes.

So, to recap: If the rumors are true, AubRih is no more, and Drake is hooking up with the ex of one of Rihanna's former flames. Small world, or just a petty world?