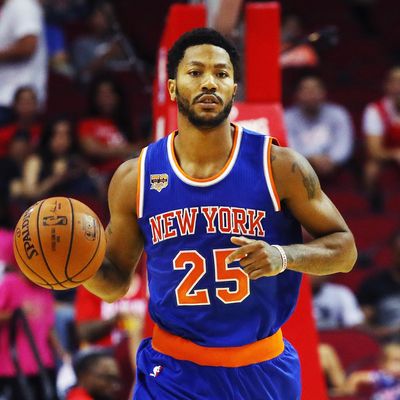 Derrick Rose.
Photo: Scott Halleran/Getty Images
On Tuesday night, an ESPN commentator did something unprecedented: Instead of brushing aside the gang-rape charges against NBA player Derrick Rose, he used them as a springboard to actually discuss violence against women in professional sports.
During Rose's first game with the New York Knicks, former head coach Jeff Van Gundy was asked by an ESPN announcer to evaluate Rose's game. Van Gundy obliged, but he quickly transitioned into discussing the case against Rose, which was a pretty huge elephant in the room. Among other things, he called violence against women an "epidemic" and recommended that any player who commits a felony against a woman be suspended for an entire season:
The fact that Van Gundy even brought up the charges against Rose on air is pretty revolutionary, but his comments are also a far cry from the way other ESPN commentators have discussed domestic violence.