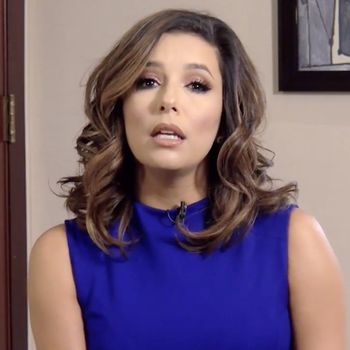 Eva Longoria would like to set the record straight.
On Tuesday night, vice-presidential candidates Mike Pence and Tim Kaine spent about two hours interrupting each other (and the moderator) on live television. Near the end of the debate, Pence responded to Kaine by saying, "You whipped out that Mexican thing again." (Kaine had referred to Donald Trump's comments that Mexico is "not sending their best" people; "they're bringing drugs, they're bringing crime, they're rapists.")
Pence's turn of phrase immediately became a trending hashtag on Twitter, and, on Friday, actress Eva Longoria confronted the issue head-on in a scathing video for the Democratic National Committee.
"That Mexican thing?" she asks Pence. "Could you be a little more specific?" She goes on:
Governor Pence — we are not a thing. We are proud American citizens. We are mothers and fathers working for a better future for our kids. And we are children studying hard and dreaming of giving back to the United States that we love. And most importantly, Governor Pence, we will be voting this November.
We're guessing that vote won't be cast for Trump-Pence.