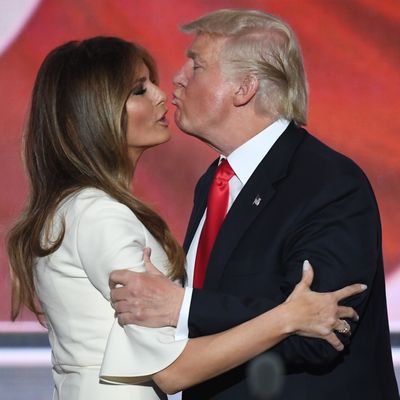 Photo: JIM WATSON/AFP/Getty Images
Today, Melania Trump issued this short-but-sweet statement:
The words my husband used are unacceptable and offensive to me. This does not represent the man I know. He has the heart and mind of a leader. I hope people will accept his apology, as I have, and focus on the important issues facing our nation in the world.
There are so many words Trump has used that are unacceptable and offensive, even in the last 24 hours — including the stomach-turning statement he made that the wrongfully convicted Central Park Five are guilty, despite DNA evidence to the contrary — but she's probably referring to Trump's offhand comment to Billy Bush about groping women.

This video of Ana Navarro getting into a fight with a Trump talking head over the use of the word "p—y" on TV is pretty great, though. We'll always have that.