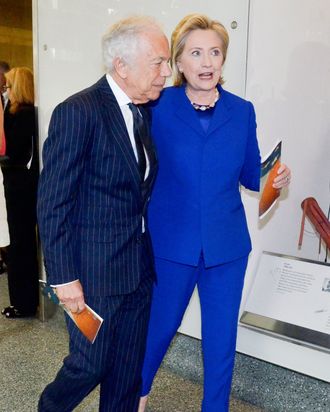 Hillary Clinton supporter (and outfitter) Ralph Lauren with the candidate.
Photo: Kris Connor/Getty Images
To say the fashion industry is "with her" is quite the understatement. A survey by the Center for Responsive Politics commissioned for Women's Wear Daily backs that declaration up with some hard statistics. Ninety-four percent of the 2016-election donations from the apparel- and accessories-industry members they surveyed have gone to Hillary Clinton. That number will hardly surprise anyone who follows fashion in even the most cursory way — the industry tends to lean left, and prominent designers have been showing their support via fund-raisers all throughout the campaign. Most recently, Anna Wintour threw a fundraiser-cum-fashion show at Manhattan's Spring Studios in September that drew big names like Marc Jacobs and Joseph Altuzarra. And then there's the plethora of Hillary merch designed by people like Jacobs and Thakoon.

The fashion-industry members surveyed gave a total of $628,305 to Clinton's campaign. But which designers are actually reaching into their own pockets to give to HRC's cause? The list includes many of the industry's biggest names: There's Ralph Lauren, who has forged a kind of fashion partnership with Clinton, designing many of her understated pantsuits for the debates and the campaign trail. Also on the roster: Michael Kors, Tory Burch, Vera Wang, Marc Jacobs, Donna Karan, Calvin Klein, Diane von Furstenberg, and Prabal Gurung. Burch and Wang reportedly gave $33,400 to a Clinton "victory fund," while Klein kicked in $43,400.

The survey found a mere $38,077 total in donations to Trump among the 29 brands and designers surveyed. The report did not name fashion-industry members who gave money to Trump, though it did note that many executives who had been longtime GOP supporters did not donate to him. But we do know of one fashion designer who has not given money to Trump: His own daughter, Ivanka.