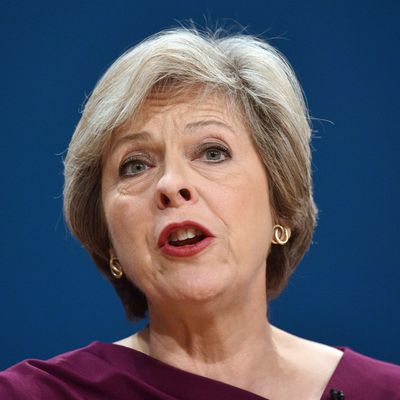 British Prime Minister Theresa May.
Photo: Carl Court/Getty Images
Women are chronically underrepresented in politics for a number of reasons, but a new report from the Inter-Parliamentary Union pinpoints one of the most depressing. The union conducted a survey of 55 female members of parliament in 39 countries around the world and found that more than 40 percent say they've been threatened with rape, beatings, or abduction while serving their term in office.
According to the Guardian, more than one-fifth of the women surveyed said they'd been subjected to, "one or more acts of physical violence," while 80 percent said they'd been subject to psychological violence, or "hostile behavior that causes fear or psychological harm." And although the sample size is relatively small, the union's secretary general said it indicates that, "the problem is much more widespread and under-reported than we realize."
Of the women surveyed, 18 were members of parliament in Africa, 15 in Europe, 10 in Asia-Pacific, 8 in the Americas, and 4 in the Arab world. (It's unclear whether women from the United States were interviewed.) Several offered specific examples of the threats they received such as British MP Jess Phillips, who said that on a single night she got more than 600 rape threats.
Other, subtler forms of sexism manifested themselves as well — 65 percent of women surveyed said they often received "humiliating and sexist remarks," mostly from male colleagues. "A female colleague in parliament confided to me that the speaker of parliament had requested sexual relations," said one female MP from Africa. "Since she had refused he had never again given her the floor in parliament."