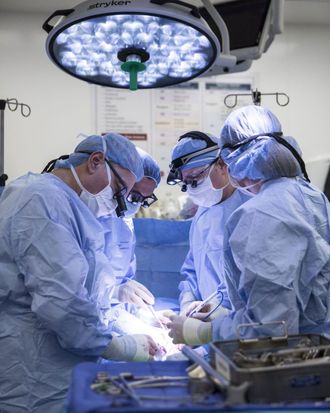 Surgeons during a uterine transplant at Baylor University Medical Center.
Photo: Baylor University Medical Center at Dallas
Doctors at Baylor University Medical Center have performed the country's first uterus transplants involving living donors.
The surgical team conducted four transplants between September 14 and September 22 and, unfortunately, three of the recipients had to have the uterus removed after tests showed that the organ wasn't getting enough blood flow. The fourth woman has shown no signs of rejection thus far.

All four women were born without a uterus as a result of Mayer-Rokitansky-Küster-Hauser (MRKH) syndrome. The recipients are between the age of 20 and 35 and the donors ranged in age from 35 to 60, and all of them are remaining anonymous for now. The donors didn't even know the recipients; they were just among the 50 random women who volunteered.

Recipients undergo in-vitro fertilization (IVF) before the surgery using their own eggs and partner's sperm (women must have functioning ovaries to be candidates). If all goes well with the transplant, they will have embryos transferred as early as one year later. Babies will be delivered by cesarean section and doctors will then determine if it's safe for the women to have a second pregnancy or not. After either one or two successful pregnancies, each woman will undergo a hysterectomy in order to stop taking anti-rejection drugs, which compromise the immune system.

Baylor is one of four medical centers performing such clinical trials. The first uterus transplant in the United States was done in February of this year at the Cleveland Clinic using an organ from a deceased donor. The recipient, Lindsey McFarland, developed a fungal infection and had to have the organ removed less than two weeks later. Boston's Brigham and Women's Hospital and Nebraska Medicine have yet to conduct their first transplant.
Swedish doctors have done nine living-donor transplants; five of those women have had healthy babies, and one is pregnant for the second time. Two surgeons from the Swedish team assisted in the procedures at Baylor and will be on hand for the six other transplants the Baylor team wants to perform by the end of the year.
Dr. Giuliano Testa, the lead surgeon and surgical chief of abdominal transplantation at Baylor, told Time: "This is the way we advance. I am not ashamed of being the one who will be remembered as the guy who did four [transplants] in the beginning and three failed. I am going to make this work. I believe from an ethical and clinical and research point of view, we have our heart in the right place."