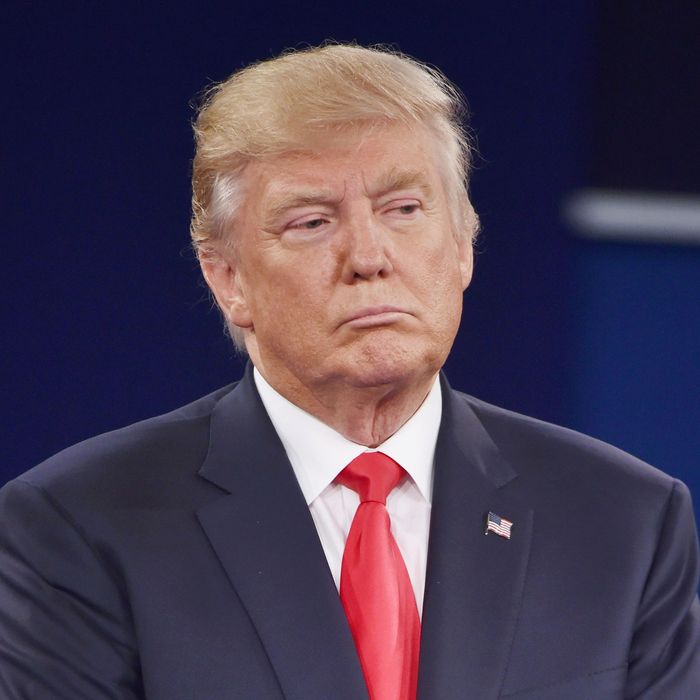 Donald Trump.
Photo: PAUL J. RICHARDS/AFP/Getty Images
Former People writer Natasha Stoynoff has spoken out for the first time since accusing Donald Trump of sexually assaulting her while on assignment for the magazine.
In a new interview, Stoynoff said that she's "doing okay" since coming forward. "Women are talking about this, and they need to. We cannot be silent anymore. I didn't tell my story for politics, I told it for women," she told People.
The assault allegedly occurred in December 2005 at Trump's estate in Florida, while Stoynoff was working on a feature about the presidential candidate and his then-pregnant wife, Melania. Stoynoff claims Trump pushed her against a wall and forcibly kissed her. Since the story broke one week ago, Trump has denied the allegations, and suggested that Stoynoff isn't good-looking enough for him to sexually assault.
Stoynoff said that Trump may have just forgotten the assault even occurred, as it happened more than ten years ago and she may just be one of "many, many" women he has assaulted. As for his comments about her appearance, Stoynoff said, "I was obviously good-looking enough for him at the time to force-kiss me and insist that we were going to have an affair."

Melania Trump has refuted a claim in Stoynoff's story that she ran into Melania in New York after the assault took place. "She wrote in the same story about me that she saw me on Fifth Avenue, and I said to her, 'Natasha, how come we don't see you anymore?' I was never friends with her, I would not recognize her," Melania told CNN's Anderson Cooper in a Monday interview.
However, People's editor-in-chief, Jess Cagle, said that Stoynoff was with a friend when they ran into Melania. The friend corroborates Stoynoff's account in the upcoming issue of the magazine, according to Cagle.