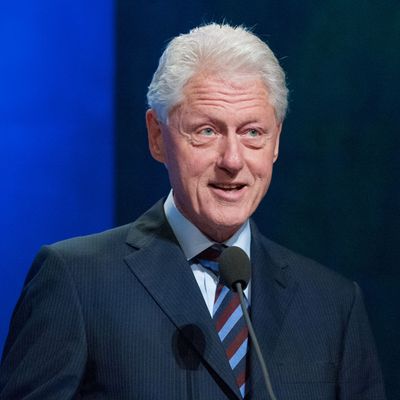 A former news reporter says Bill Clinton sexually assaulted her while he was governor of Arkansas.
Photo: Stephanie Keith/Getty Images
Leslie Millwee, who was a reporter for local Arkansas TV station KLMN-TV while Bill Clinton was the state's governor, told Breitbart News that Clinton sexually assaulted her three times in 1980. Millwee, who reported under the alias Leslie Derrick, reportedly interviewed Clinton "about 20 times" over the course of her career at KLMN, but she quit her job at the station after the assaults.
She told Brietbart that in all three cases, Clinton paid a visit to the KLMN station and assaulted her in the editing room, which a former KLMN editor described as "tiny." "He followed me into an editing room," Millwee said. "I was sitting in a chair. He came up behind me and started rubbing my shoulders and running his hands down toward my breasts. And I was just stunned. I froze. I asked him to stop. He laughed."
Millwee said similar assaults occurred two more times, and after the third time, Clinton showed up at her apartment and knocked on her door for about ten minutes. "[He was] calling my name. Saying, 'I know you are home. Please answer the door.' I did not answer the door," she said.
She told three friends about the alleged assaults in the late '90s, and each corroborated her story for Brietbart. Millwee added that she considered coming forward in 1998 when the Monica Lewinsky scandal broke, but she was afraid of the negative publicity and of losing her job at a "conservative" pharmaceutical company. The Clinton campaign has yet to respond to Millwee's allegations.