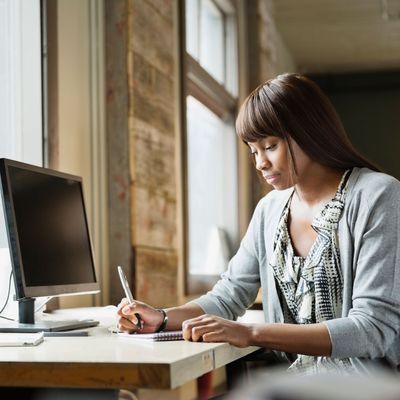 The United States is ranked 45th.
Photo: Hero Images/Getty Images
According to data from the U.S. Census Bureau, the wage gap has pretty much stagnated in the United States — it hasn't closed significantly since 2007. And based on a new report from the World Economic Forum about the state of gender equality, the global picture isn't much better. The report, which was released Wednesday, shows progress toward parity peaked in 2013, and accuses the global community of "an acute misuse of talent" for ignoring the potential of female workers.
The global gender gap index ranks 144 countries on the gap between women and men in four areas: health, economics, education, and politics. According to its authors, the report "aims to understand whether countries are distributing their resources and opportunities equitably between women and men, irrespective of their overall income levels." Here are some key takeaways from the report.
Progress toward economic parity has slowed dramatically. According to the report, only 59 percent of the economic participation gap has closed; in other words, the gap is now larger than at any point since 2008. In fact, progress toward closing the gap peaked in 2013 and has declined ever since.
And the reasons why are depressing. On average, women around the world still earn just half of what men do, despite working longer hours. Another reason for the economic disparity is labor-force participation; about 54 percent of women work, compared to 81 percent of men. The number of women in senior positions also remains low; only four countries in the world have equal amounts of male and female legislators and managers.
Only four countries have reached political parity. Although political parity is the area with the most consistent improvement, only two countries have an equal number of men and women in parliament, and only four have reached parity in regional roles. Globally, only 23 percent of the political gap has been closed.
It will take the world 170 years to close its economic gender gap. If the current rate of progress holds, that is. And that metric only applies to gender parities in all four areas: education, economics, health, and politics. For specific areas, the outlook is a little brighter — the report estimates the education gap could close within ten years, for example, and the political gap within 82. But the health gap is a little trickier to estimate, and given the backwards progress of economic parity, don't expect that gap to close any time soon.