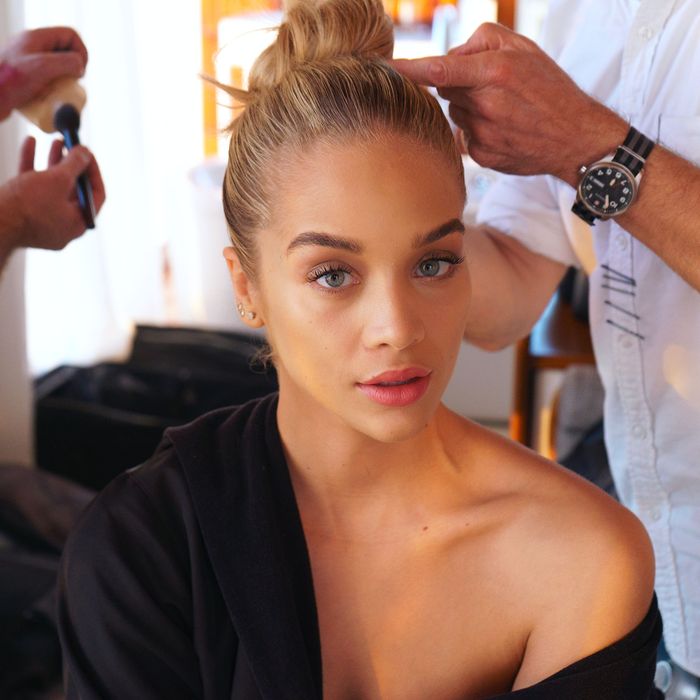 Jasmine Sanders
Photo: Nathan Lee Bush
"I'm breaking out," Jasmine Sanders tells her makeup artist as he blends a concoction of Dior's Forever Perfect and Nude Air Serum over her face. I look up. Her face is as smooth as Beyoncé's Beyhive is robust. As even as this election season is long. As unblemished as Hamilton is Broadway perfection. You get the point.
A few of us are perched inside a Meatpacking District hotel room, watching Sanders, who is affectionately known as "Golden Barbie" on Instagram, get ready for Dior Beauty's Art of Color opening exhibit fête. At 25, Sanders has been modeling for half her life — 12 years, to be exact. But 2014* was her year. It was then that she joined the flock of angels at Victoria's Secret. The next year she was featured in Love. Her insertion within the British bi-annual magazine and relationship with Love's founding editor, Katie Grand, opened the career floodgates. "I wouldn't have been cast in Miu Miu if it weren't for her," Sanders tells me. "[Grand's] creative process and her styling, it's everything. Having someone like her believe in you, putting your name out there to other clients, I am forever grateful."
It helps, too, that nearly 2 million people follow Sanders's every move on Instagram, that she's a Pat McGrath muse, and that she's been met with a warm embrace by the Kardashians and their social media juggernaut. But tonight revolves around Dior, as Aidan Keogh, Sanders's makeup artist, reminds me as he pats a combination of the brand's "Addict" lipstick in "Black Tie" and "Be Dior" with his fingers directly onto her lips — for a sheer effect.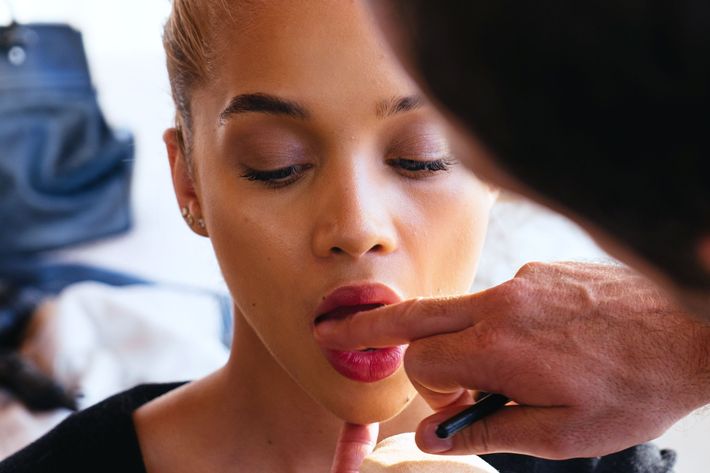 While hairstylist Gavin Harwin secures Sanders's hair into a ponytail with a soft "Japanese elastic" hair-tie to avoid over-pulling (a similar version here), Keogh finished working on her face. He dabbled a darker foundation to contour under her cheekbones and around the perimeter of her face, and blotted a lighter foundation over her face's high points, like the top of the cheeks and the bridge of her nose. Blush was skipped altogether: "Jasmine doesn't like blush," Keogh says, and brows were brushed with Anastasia's Brow Wiz. For the eyes, Dior's Lustrous Smoky was dusted slightly past the crease, then diffused with a loose powder to render the shade less iridescent. A lapping of mascara and lashes completed the uncomplicated but definitively beautiful look.
German-born and California-living, Sanders was inspired by the greats from a young age. "I've always looked up to Naomi Campbell, Tyra Banks, Heidi Klum, Kate Moss, and Iman. They're the reason why I started modeling. They're so powerful, and they've all transitioned into different things."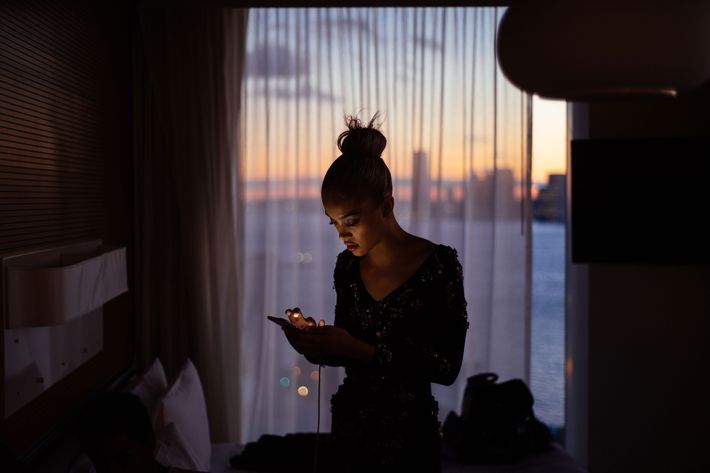 These days, Sanders has reached several bars of success (she's walked the runway for DKNY and Moschino, and stars in Moroccanoil's current campaign) but she still gets nervous booking a gig. To that end, she improvises with comfort food: "Any time I'm on set I always have to have bacon."
As Sanders completed her look for the night, the Cut broke the ice with a few questions to get to know the model better.
Your eyebrows are amazing. Is it true that you don't have them professionally waxed, threaded, etc.?
I don't let anyone touch my eyebrows.
What's your most helpful piece of skin-care advice?
Always use moisturizer. I like this one by Darphin. I've been using that my entire life because my mom does makeup, so she always gave me and my sister products to use. I also always have to have rosewater or a hydrating spray with me. I don't use anything other than Neutrogena's facial wipes to take off my makeup. [Takes out MAC's Mineralize Charged Water] I always have this and the Neutrogena wipes in my bag.
How do you approach your hair every day?
If I ever do anything with heat, I use a heat protectant. When I'm fresh out of the shower I use a cotton T-shirt to dry my hair instead of a towel. The cotton isn't as harsh and heavy on the hair as a towel. I love using Moroccanoil's products (Sanders is a face for the brand). I like to use their Curl Re-energizing Spray on a day-to-day basis, when I don't want to wash my curls right away. I spray that and it livens up the curl a bit. I try to stay away from using heat on my hair when I'm not working because I don't want my hair to break off. I'm really trying to grow out my hair so I don't need to use extensions that often.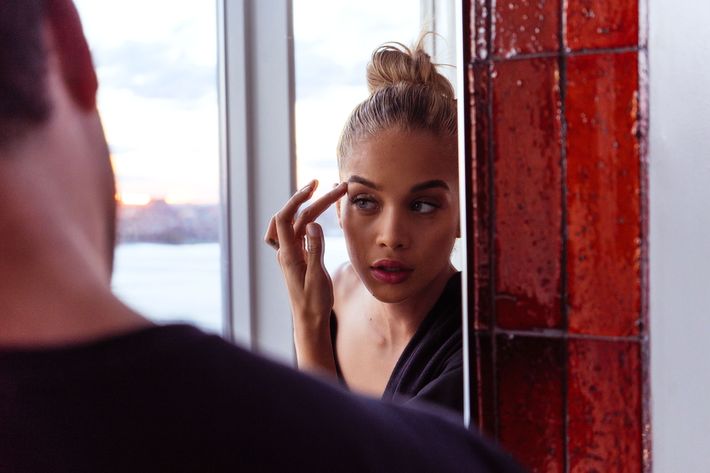 Let's try some rapid fire questions. Facial or massage?
Massage.
Gum or mints?
Gum.
Sleep with or without socks?
Without.
If you were forced to wear one lipstick shade for the rest of your life, what would it be?
Matte red.
If you were forced to use just one beauty product for the rest of your life, what would it be?
Anastasia Brows.
Biggest phobia?
Big bugs. Massive spiders freak me out. And I'm terrified of heights.
If you had a super hero power, what would it be?
I want to be [X-Men's] Storm.
What do you hate the most?
Being late. I hate having people wait for me. That and non-communication.
Do you collect anything?
I have a massive Jordans collection. And I have 5,000 heels.
What's on your iPhone lock screen?
Me and my boyfriend.
What's the most exciting thing you've ever done?
I recently went up to the top of the Eiffel Tower with my boyfriend, even though I'm terrified of heights.
Favorite Instagram filter?
Skyline. It gives a nice golden filter. I also always like to play with brightness, contrast, and sharpness.
This interview has been edited and condensed.
Makeup: Aidan Keogh for Honey Artists; Hair: Gavin Harwin for The Wall Group.
*This post has been updated to show Jasmine Sanders shot Victoria's Secret in 2014.