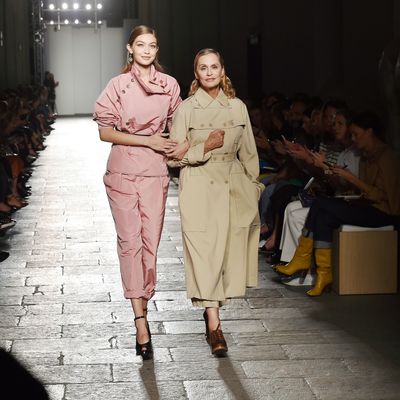 Photo: Catwalking/Getty Images
One of the biggest highlights of Fashion Month was Lauren Hutton and Gigi Hadid's arm-in-arm finale walk at Bottega Veneta's Milan show. As it turns out, the iconic show-closing moment (which inspired countless Instagrams and news posts) wasn't a planned publicity stunt.
When the Cut caught up with Hutton before Tina Brown's Women's Brain Health Initiative panel last night, the legendary model and actress blamed her heels. "Did you see those?" Hutton asked, remembering the narrow platform wedges. "They looked beautiful, but boy. Everyone else had practiced them." The runway was precarious: The historic Accademia di Belle Arti di Brera's limestone floors were built in the late 1700s.
"Nothing was flat and it was very easy to fall," Hutton said, "and I was pleased that I didn't fall because it was also dark." She made it down the runway the first time like the professional she is, but the second time, for the finale walk, it became too much.
"When I got back[stage], they said, 'Get in the line, we're about to go again.' And I said, 'I can't, I can't,'" Hutton recalled. "But a very smart stylist, Katie Grand from England, said, 'You can follow Gigi.' She had been in the middle of the line. I said, 'I can't. I'll have to hold onto Gigi,' and that's how it worked."
Thus the now-famous walk was in fact serendipitous. It was spontaneous bonding moment for the two supermodels, too: "We had a very good time," Hutton added. "We talked during the walking because I didn't much care."