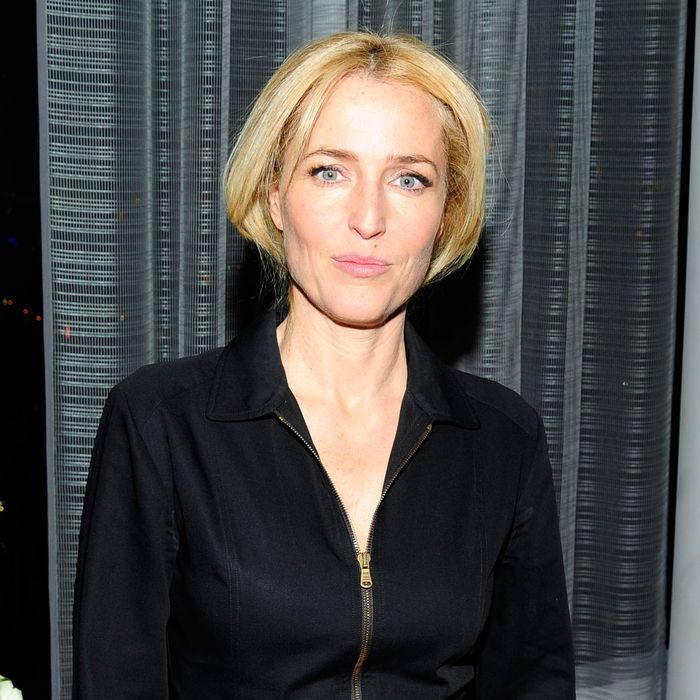 Gillian Anderson on her new book We: A Manifesto for Women Everywhere.
Photo: Paul Bruinooge/Patrick McMullan via Getty Image
This March, Gillian Anderson, a.k.a. The X-Files' Agent Scully, will release We: A Manifesto for Women Everywhere, written with journalist Jennifer Nadel. The two women created the 300-plus page tome as a tool for young women to address what they see as an epidemic of low self-esteem.
"I was moved by the fact that teen suicides are at the highest they have ever been," Anderson said this week at a Cinema Society party for the upcoming book. "There is so much low self-esteem in girls, and so much self-hate that I keep reading about. My first idea for a book was something that would help to lift girls out of that place of negativity."
"I know for myself, and I think for my daughter, I haven't really had many female mentors in my life, and I haven't had many people I could look at to guide me," Anderson said. "I have struggled with self-esteem myself, and in looking at the ways that I have dealt with overcoming those things, I started to think that maybe some of the tools that I have used, and that Jennifer and I have shared over the years, might be potentially useful for other people of all ages."
Organized around nine principles — honesty, acceptance, courage, trust, humility, peace, love, joy, and kindness — the book emphasizes the importance of acting selflessly. Anderson said that in a way, she wrote this book for her younger self.
She shared an example: managing emotional pain: "One of the things that [Jennifer and I] had in common was that we handled emotional pain incredibly badly and we found tools along the way to handle things differently." At the same time, Anderson doesn't pretend to have come to any grand conclusions.
"This book isn't about what we've figured out," she said. "We were both very honest in the book about our trials and tribulations, where we have tried things and failed, and what we have learned over the years. What has worked and hasn't worked."
"It doesn't come from any lofty heights," Nadal added. "It just comes from the place that, if you can talk honestly about what is going on, and really share your vulnerability — rather than putting a gloss on life and pretending everything is fine — life would be so much easier."