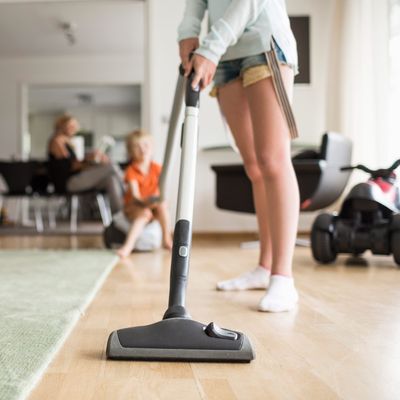 Photo: Maskot Bildbyrå AB/Getty Images/Maskot
Girls spend 40 percent more time than boys doing household chores, according to a new UNICEF report. Across the world, girls between the ages of 5 and 14 spend 160 million more hours cooking, cleaning the house, taking care of family members, and collecting water and firewood.
The report also determined that the disproportionate amount of household labor for girls starts early, since those between ages 5 and 9 spend 30 percent more time — 40 million more hours a day — completing chores than boys do. As girls age, the gap widens, with 10- to 14-year-old girls spending 120 million more hours, or 50 percent more time, each day.
According to UNICEF's principal gender adviser, Anju Malhotra, the overburden of unpaid household work intensifies as girls reach adolescence. "As a result, girls sacrifice important opportunities to learn, grow, and just enjoy their childhood," Malhotra said in a statement. "This unequal distribution of labor among children also perpetuates gender stereotypes and the double-burden on women and girls across generations."
Girls' contributions to the household are often less visible and undervalued by their family members, since "adult responsibilities" — such as caring for other children — are too often imposed on them. The time girls are required to spend caring for the house limits their time to "play, socialize with friends, study and be a child," while going out to collect water or firewood can even put girls at a risk of sexual violence, the report noted.
"Quantifying the challenges girls face is the first critical step towards meeting the Sustainable Development Goal on gender equality and breaking down barriers that confront the world's 1.1 billion girls," UNICEF chief of data and analytics, Attila Hancioglu, said in the statement.