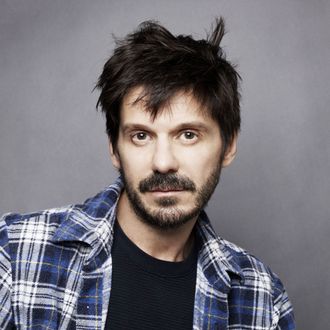 Photo: Courtesy of Redken
Before celebrities like Kim Kardashian (and her family) were considered today's biggest beauty influencers, there was Guido Palau. The British-born hairstylist has been heralded for having a hand in every major hair trend of the last several decades. He was responsible for all the coiffed hair in George Michael's Freedom video, and shocked people in the '90s by sending Kate Moss onto the 1993 Calvin Klein runway with wet, beachy strands (remember, this is what hair looked like previously), helping to usher in the grunge movement. Since then, Palau has created the sculptural masks for the Met's McQueen retrospective, continues to be the lead hairstylist for big-name designers like Alexander Wang and Marc Jacobs, and has been championing women for owning their natural hair. During Fashion Week, the Redken creative consultant took time to talk to the Cut about the "new luxury" in hair, the end of beachy hair, his craziest runway hairstyles, and whether or not there's such a thing as a "feminist" hairstyle.
What is the "new luxury" in hair?
Choice is luxurious. I never feel anything is wrong in hair. How people want to wear their hair is how they should wear it. In fashion, it can be extreme or slightly whimsical. It's not always to be taken literally. True luxury is simplicity and ease in hair — but for real women to feel like they have the option that they feel they can change themselves and have some fun with their hair. It's not dictatorial. If we looked at a whole Fashion Week season, we wouldn't even know what a season is about, trend-wise. The last few shows have needed lots of spray and gel. Then there's the easy hair, where you just wash and dry your hair and that feels very luxurious. Then we've seen all these girls with their natural hair and texture, which is beautiful, so everything has been very different. There are no rules to beauty.
I found it interesting that we saw a little more straight hair this season. We haven't seen that on the runway in years.
Right, Versace did stick-straight hair. Donatella was a big fan of straight hair, but it was probably ten years ago that straight hair was in high fashion. At Prada, there's a minimal idea of beauty, going back to [Miuccia Prada's minimalist] roots in the '90s, so the straight hair plays into that.
Straight hair could feel new because there is a generation of women who never wore their hair straight. Maybe they came into this hair moment when curls, beach waves, and textured hair were big, so maybe straight hair feels sort of fresh again.
I remember the first time I did stick-straight hair, which was probably 15 to 18 years ago, I thought, Women are never going to do this because it [requires] a blow dry. Then it became a huge trend. Then we started with dull hair. You wouldn't think women would go, I don't want that shine in my hair. Then matte products, surf sprays, matte paste, all those things became huge. Women didn't want shiny hair. That did come from the runway [Editor's Note: See Marc Jacobs spring 2008]. It may take five years to really trickle down to the mainstream.
As a runway and editorial hairstylist, how do you see what you do relating to real women?
What's interesting to me is if real women somehow navigate all this and find something they like. Fashion can often feel intimidating or overwhelming. There are so many shows, so many reports on beauty that you can be backed into what you want.
[The runway] relates [to real women], but it can take some time to see. In the '90s, when I started, [the hair moment] was grunge. It was a reaction to Kate Moss and that resulted in that "no hairstyle" sort of look. Twenty-five years later, we're finally getting to the point where women can feel very happy not doing their hair and not doing any makeup. They feel like it's socially acceptable and it is.
We got to this stage, but I'd hate for women to think they're just trapped in trends. Hair is a fantasy and fun and an escape because they can become someone else or feel someone else for a moment. That's what women should take from runway hair. Don't be intimidated by it, or offended, but take what you want from it.
When I do an extreme hairstyle with lots of gel or lots of shine, I don't expect women to go out like that at all. But they might go, Oh, I can put a little shine in my part or put Diamond Oil on my ponytail to make it shinier. Or they become more experimental.
We've seen the way Instagram has influenced makeup. Do you think social media and Instagram have influenced hair?
I don't think it has worked the same as with makeup. With makeup, you see so many fans who can really do makeup very well. There must be some hair [Instagram influencers] as well, but not as many. I'm not a woman and I don't wear makeup, but to wipe something off seems a lot easier than to restart your hair if it goes wrong.
But social media's impact is really coming to the forefront. Someone can comment on your work immediately. When I post a picture, it can get loads of likes, or it doesn't and then you can go, Oh no, man, this really isn't working.
This season, we've seen a lot of girl power and feminism being represented in makeup. Do you feel like there's an equivalent for hair?
At Dior, the girls looked very strong, and the T-shirts said it all. I've always seen women as equal because they've always been my bosses or editors. In my work, I try to celebrate every kind of woman, from the most classic to the most alternative.
The way women represent themselves can be a powerful message. If you look back in time at iconic feminist women, they've had a very powerful look. I've always been attracted to that kind of woman. I love seeing someone using her hair to make a statement.
But going back to choice being a luxury: Women should have the choice of wearing makeup, no makeup, crazy hair, no hair. We're all conditioned by society to play into what is considered beautiful. Over the years, we've been given the idea that shiny, bouncy hair is acceptable and beautiful, so many of us have conformed. Why isn't frizzy, wild hair considered beautiful? Who's telling us what's pretty? It just happened over time and then our children grow up watching images of a cartoon girl with smooth hair that's never wild and curly hair — why is that? Why shouldn't that be the idea of true beauty?
True modernity of women (and men) is to be what they want. Be true to yourself. There should be no boundaries. Fear pushes us into boundaries, into the way people think we should be presented.
This interview has been condensed and edited.