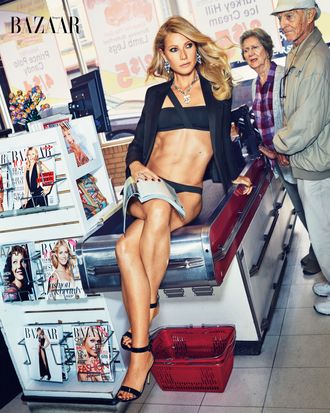 Photo: Alexi Lubomirski/Courtesy of Harper's Bazaar
In a new spread for Harper's Bazaar, aspirational foodie Gwyneth Paltrow — who let her kids eat an Oreo, once — is pictured grocery shopping in lingerie and $10,100 Bulgari earrings at Greenpoint's Associated Supermarket. While the interview, conducted by Samantha Bee, includes some interesting tidbits (including the part where she says Beyoncé "doesn't make grilled cheese"), it's the photo shoot that really appeals to us.

Harper's Bazaar is known for its whimsical spreads, like Emily Ratajkowski riding a horse naked, but this one really strains the bounds of credibility. In particular: the image in which Gwyneth piles her shopping cart with boxes upon boxes of sugary cereal. (I'm sorry, but Gwyneth Paltrow has never eaten a Lucky Charm in her life).
Then again, Gwyneth, who is known for switching up her diets, might just be signaling the rise of a new trend. Maybe normcore grocery shopping is the new gluten-free, dairy-free, locally sourced, macrobiotic grocery shopping? Or maybe she's just trying to improve on her last, failed attempt at the Food Stamp Challenge (during which she bought mostly limes).

Hey, look, she got milk. It's going better already!