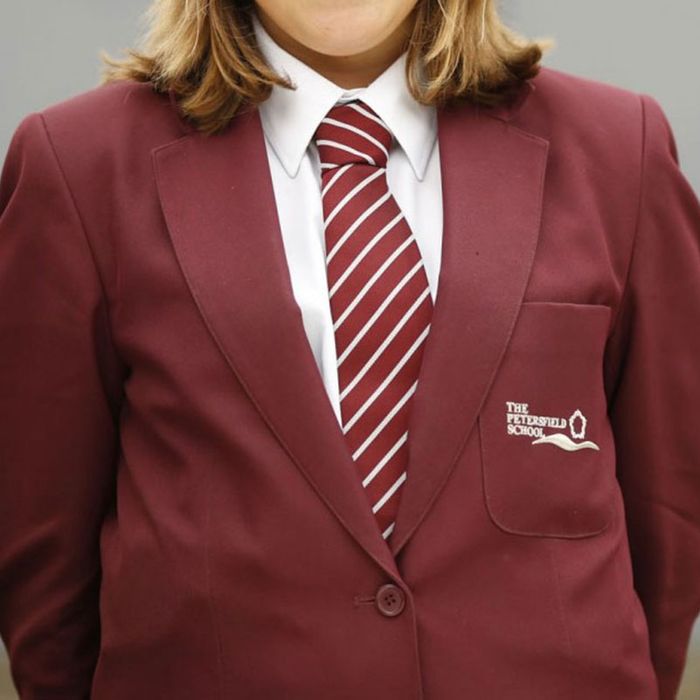 Photo: Courtesy of Petersfield
The night before a 14-year-old girl stabbed her best friend, she cut a smile into her cheeks with a knife. A jury would later hear she did this for two reasons — to look like Heath Ledger's Joker in The Dark Knight, and to help her plead insanity if she were arrested. She went online that evening, too, to Google or another search engine, wanting to know where exactly to stab someone to kill them. She decided to aim for her friend's heart.
The girl (who is not publicly identified for legal reasons) arrived at the Petersfield School in Hampshire, England, the next morning wearing a bandanna, presumably to cover the gashes on her face. She found her friend among classmates in uniform maroon jackets and said she had a present, leading her to a quiet spot on the school's grounds. She'd give her friend the gift like it was a surprise.
"Close your eyes and put your hands out," she said, reaching into her bag. The girl squinted her eyes open right when she lunged, and stepped back just in time — the blade cut through her blazer and shirt and punctured her chest only slightly, near her heart. She ran. It was April 25, last spring.
The girl would message her friend later to say she didn't care if anyone blamed the attack on the Joker or Columbine. "They didn't inspire me," she wrote, "they motivated me."
In court, the jury heard the girl had been obsessed with serial killers and school shootings long before the stabbing. For a class fashion project, she studied the "cool and edgy" styles (her words) of Ted Bundy and Richard Ramirez. She planned her own school shooting in a journal she would later burn, listing classmates among 60 potential victims. She planned to kill her mother and brother in their sleep but apparently chose her friend out of revenge instead — she said she believed the girl was behind fake Instagram and Tumblr accounts created in her name the previous summer. The girl denied this claim.
She told the jury she wanted to hurt her friend and do something "sensational" but didn't plan to kill her, revealing some degree of confusion: "A very big part of me was disgusted at what I was thinking," she said. "I didn't feel very much in control of what I was doing … I didn't want to, I felt I had to, I felt that within myself." She did it to stand out because, as reported in The Guardian, "she was not interested in having a nine-to-five life 'mapped out' for her."
On Wednesday, the jury discussed for two hours and 45 minutes before convicting the girl of attempted murder in a unanimous verdict. Previously, the girl had pleaded guilty to unlawful wounding and possession of a bladed weapon on school premises. The judge adjourned the case but didn't set a sentencing date, speaking directly to her: "You are going to have to come back to be sentenced in a number of weeks," he said. "There are certain reports I need and one of them is a psychiatric report."