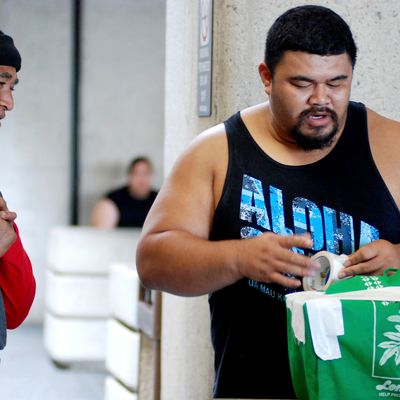 Mua Migi, left, and his son Atimua Migi, before Mua boards a Hawaiian Airlines flight to American Samoa.
Photo: Jennifer Sinco Kelleher/AP
Hawaiian Airlines recently implemented assigned seating on its twice-weekly flights from Honolulu to Pago Pago, American Samoa, after it discovered that passengers and their carry-on bags were an average of 30 pounds heavier on this route than on its others. The U.S. Department of Transportation responded to complaints by saying that this policy is fair — or, rather, not discriminatory — but the airline is asking for trouble.
The airline learned that these six-hour flights were burning more fuel than expected and had ruled out external factors like wind. So for six months earlier this year, they asked for volunteers who wouldn't mind being weighed before boarding. When they figured out that passengers on these flights were heavier, they did away with the seat-selection option during booking on that route. Instead, the airline assigns seats in an effort to distribute weight equally around the cabin.

For this route, the airline uses Boeing 767 jets, which have a two-three-two seat configuration. Officials are attempting to keep one seat per row open, or seat a child there. They said the move is also for safety reasons: If adults filled a row, the total weight could exceed load limitations of the floor in emergency landings.
Jon Snook, Hawaiian's chief operating officer, told the Associated Press that the airline chose to manage the distribution of adult passengers with assigned seating rather than limit the number of tickets sold, which would have driven prices up.

An FAQ page on Hawaiian's site states that it will seat families and couples together and that passengers are no longer being weighed, so, presumably, gate agents will be assigning seats based on whether someone is an adult or a child. But it's easy to see where this policy could go off the rails. What if there aren't enough children or unsold tickets to have an empty seat or a lighter seat in each row? Will gate agents have to start sizing people up and deliberate about where to put this person or that person? What if a larger-bodied family of seven wants to sit in the same row?

One passenger who filed a complaint with the DOT said the rule is discriminatory against American Samoans because it only applies to the Pago Pago flight, not all flights the airline offers. "Hawaiian Airlines' policy of not offering pre-assigned seats on certain flights is not on its face discriminatory," Department of Transportation spokesperson Caitlin Harvey told the AP in an email. Godspeed to the gate agents who have to implement it.