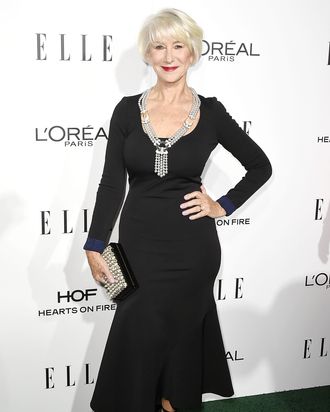 Helen Mirren at the ELLE Women in Hollywood Awards.
Photo: David Crotty/Patrick McMullan via Getty Image
Last night, Helen Mirren deservedly accepted the Legend Award at the 23rd-Annual Elle Women in Hollywood Awards at the Four Seasons in Beverly Hills. As one of the industry's reigning dames, the 71-year-old actress offered up some guidelines for the rest of us. "Feel free to pass these along," she quipped in her acceptance speech. "My top five tips." She managed to work in a dig aimed directly at Trump in here, too:
1. "Never drink alcohol, unless you're celebrating something, upset or something, or if it's a day that ends in the letter Y. And never drink when you're driving."
2. "There are no rules about love, I don't believe, but don't be in a rush to get married. Honestly. I married Taylor [Hackford] much later in my life and it's worked out just great. Now give your partner the freedom and support to achieve their ambitions, very important. And that goes both ways, men and women."
3. "At the blackjack table, always split aces, eights, and nines. Believe me, it really improves the odds."
4. "Connect with friends daily. I don't mean on Facebook. Better to have three great friends than 300 friends on social media. Friends you really talk to."
5. "And finally, finally, ignore anyone who judges the way you look. Especially if he or she is some anonymous miserable creep lurking on the internet or is a bloated, small-headed, dinosaur-y-handed candidate for president."
The Elle Women in Hollywood Awards was presented by L'Oréal Paris, Hearts on Fire Diamonds, and supporting sponsor Calvin Klein Collection.