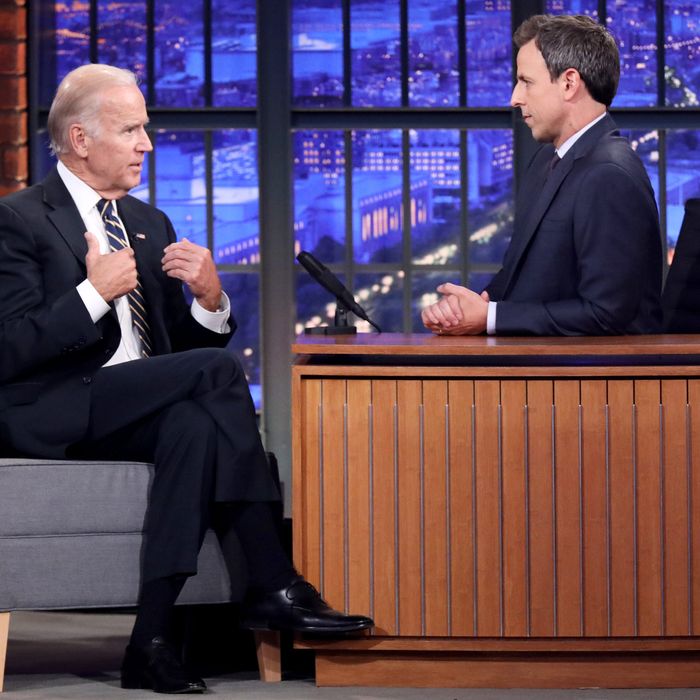 Vice-President Joe Biden (left) and Seth Meyers (right).
Photo: Lloyd Bishop/NBC/Getty Images
Vice-President Joe Biden told Seth Meyers on Wednesday that Donald Trump has engaged in "the textbook definition of sexual assault," calling his actions "the ultimate abuse of power."
Biden's Late Night interview was taped before new accusations of sexual assault by Trump came out late Wednesday. As such, the vice-president was referring to the tape that emerged last week of Trump bragging about grabbing women by their pussies. The vice-president, who wrote the Violence Against Women Act, told Meyers that he was "astounded" Trump would "so publicly" boast about assaulting women.
He then brought up allegations that came out Wednesday morning by four former teen-beauty-pageant contestants, accusing Trump of walking into the dressing room while they were changing. "This is absolutely outrageous behavior. I've spent most of my career trying to figure out how to begin to change the culture in this country so that we treat women with respect and with dignity," Biden said.
The vice-president continued, "My dad used to say the greatest sin of all is the abuse of power, and the cardinal sin of all is a man raising his hand or taking advantage of a woman. And here's a guy who says, 'I'm a star.' Talk about power. 'I'm a billionaire, I'm a star, I'm a celebrity, so I can go in and intimidate women into allowing me to assault them and assume they aren't going to say anything.' That is the ultimate abuse of power. I don't understand how anyone can remotely justify that."
Check out the clip below.