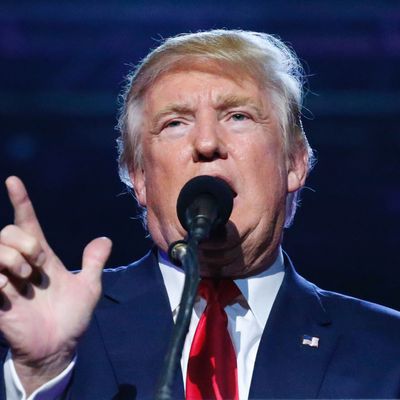 Donald Trump.
Photo: Kena Betancur/Getty Images
Calls to rape crisis hotlines have increased substantially since a 2005 video of Donald Trump bragging about sexually assaulting women hit the internet, the Washington Post reports.
The D.C. Rape Crisis Center hotline saw a 20 percent increase from the 75 to 100 calls it usually receives each week, while the Rape, Abuse & Incest National Network (RAINN) had a 35 percent spike since the footage was released. According to Indira Henard, executive director of the Rape Crisis Center Hotline, Trump's remarks were a trigger for many survivors, who called to talk about the unwanted touches they had received.
"When you're a survivor of a sexual violation, listening to someone share their trauma can shake up your trauma. It can also give you courage to share your story," Henard told the Post.
The stories of women who came forward to accuse Trump of sexual assault have helped many survivors recognize that what they had gone through was actually assault as well. Some have reached out to these hotlines for support they might not have sought in the past.
"Folks in the past didn't have the words for it," Henard said. "Someone touching their genitals, someone groping them … they didn't think it was sexual assault."