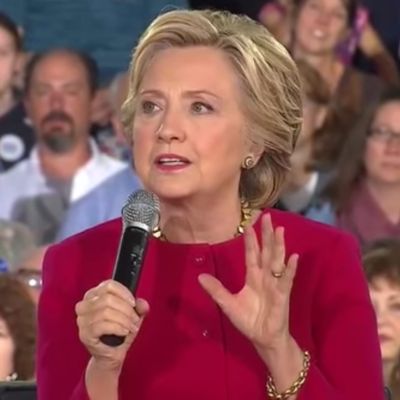 Republican candidate Donald Trump's historically demeaning comments toward women, particularly those aimed at former Miss Universe Alicia Machado, have come up time and time again during this presidential race. And at a campaign event on Tuesday in Haverford, Pennsylvania, 15-year-old Brennan Leach used those comments to ask Hillary Clinton about women and body image.
"At my school, body image is a really big issue for girls my age. I see with my own eyes the damage Donald Trump does when he talks about women and how they look," Leach said."As the first female president, how would you undo some of that damage and help girls understand they are so much more than just what they look like?"
"I am passionate about this too because we know that young women begin to get influenced at earlier and earlier ages by messages from the media," Clinton replied. "Forget your mind, forget your heart, care only about what you look like because that's all we care about. And we have to stand up against that — women and men, mothers and fathers, teachers, everybody.
"My opponent insulted Miss Universe. I mean, how do you get more acclaimed than that?" she said, invoking Trump's criticisms of Machado again. "But it wasn't good enough, so we can't take any of this seriously any more. We need to laugh at it, we need to refute it, we need to ignore it, and we need to stand up to it."
She also referenced combating the cyberbullying that many young women face, before adding, "So we have got to be as clear as possible, you are more than the way you look. You should be healthy, you should take care of yourself, but we're not all gonna end up Miss Universe, I hate to tell you. So let's be the best we can be."
Watch her full answer, as well as daughter Chelsea's, below: