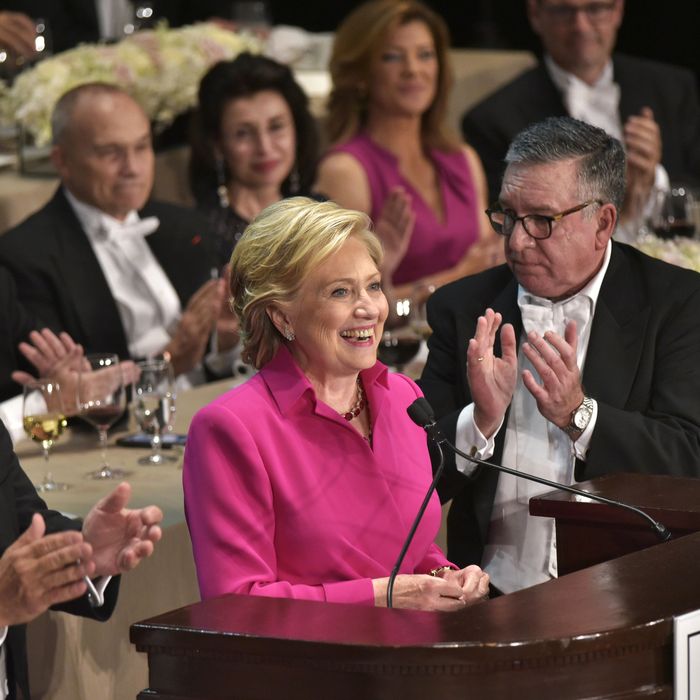 Hillary Clinton straight-up roasted Trump.
Photo: MANDEL NGAN/AFP/Getty Images
Just a day after the final presidential debate, Donald Trump and Hillary Clinton met again at the annual Al Smith dinner, a white-tie charity event in New York City. But this time, instead of talking over each other and interjecting with the occasional "wrong," they were meant to cordially roast each other while sitting just one seat apart.
Trump earned boos — the first ever recorded at the dinner — for anti-Clinton digs that were just a little too aggressive. But he did manage to get in some pretty good jabs at Clinton:
But when Clinton took the stage, Trump's digs were but a distant memory. Here are some of her best lines.
On Trump accepting the election results
"You know, come to think of it, it's amazing I'm up here after Donald. I didn't think he'd be okay with a peaceful transition of power."
On Trump's treatment of women
"People look at the Statue of Liberty and they see a proud symbol of our history as a nation of immigrants, a beacon of hope for people around the world. Donald looks at the Statue of Liberty and sees a 'four' … Maybe a 'five' if she loses the torch and tablet and changes her hair."
"Donald has attacked me for a life in public service and I didn't get that at first. I kind of get it now. As he told Howard Stern, he doesn't like it when women have been around for more than 35 years."
On her alleged use of performance-enhancing drugs
"There is nothing like sharing a stage with Donald Trump. Donald wanted me drug tested before last night's debate. And look, I've got to tell you, I am so flattered that Donald thought I used some sort of performance enhancer. Now, actually, I did. It's called preparation."
On Kellyanne Conway
"Now, look, I have deep respect for people like Kellyanne Conway. She's working day and night for Donald and because she's a contractor, he's probably not even going to pay her."
On Trump's health
"My blood pressure is 100/70. His is unbelievably great. My cholesterol is 189, his is presidential. My heart rate is 72 beats per minute, his is the most beats ever, or the least beats ever, whichever sounds best."
"But Donald really is as healthy as a horse – you know, the one Vladimir Putin rides around on."
And on each of their legacies as president
"And whoever wins this election, the outcome will be historic. We'll either have the first female president or the first president who started a Twitter war with Cher."