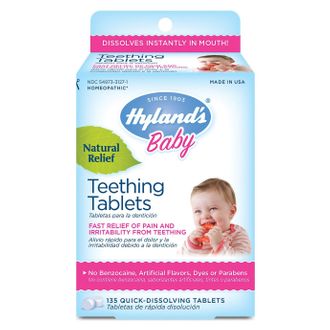 Hyland's teething tablets.
Late last month, the U.S. Food and Drug Administration warned parents not to use homeopathic teething products to treat their babies' pain, citing an investigation of "adverse events" including seizures in infants and children given the products. Now, we know just how many complaints the agency has received: The FDA says it's investigating the possibility that 400 medical events including seizures, vomiting, fever, and ten deaths over a six-year period may be linked to teething tablets and gels.

CVS voluntarily recalled all the teething products it carried the day of the FDA warning, and Hyland's said yesterday that it would discontinue all of its teething products in the U.S. The company said the FDA's announcement has led to confusion because certain stores still carry the products while others have stopped. Hyland's said it stands behind the safety of its products but concerned parents should consult their doctors.

If your child is under 6 months and too young to take baby Tylenol, best get thee some teething rings.