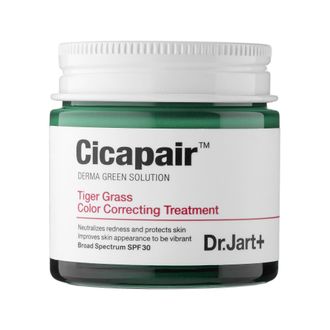 Dr. Jart Cicapair Tiger Grass Color Correcting Treatment.
A case of the sniffles is annoying yet treatable; the rosy, chafed nose that follows is meddlesome and difficult to approach. Cue Dr. Jart's Cicapair Tiger Grass moisturizer.
The whipped, matcha-hued formula hides all the tell-tale signs of an irritated sick face. Unlike powders that conceal redness but dry your skin, or color-correcting makeup pigments that cake with surprising fortitude, Tiger Grass soothes, hydrates, and evens the tone of an inflamed complexion. It's a skin-care treatment, not a cosmetic, replacing the role of a daily face moisturizer.
The green formula undergoes a bit of a transformation when it's rubbed into skin, turning beige and then clear. Because the texture is light and dries matte, oily complexions can handle its moisturizing heft. And since it's weighted with hydrating ingredients like glycerin and beeswax, your skin won't wither and flake. SPF 30 is swirled within the formula, so it protects skin from sun damage as well.

Tiger Grass isn't just for sick patients, of course. Rosacea sufferers might find relief in its color-correcting prowess, and those with acneic skin might find that the pink glow of a pimple can be muted with a small dab. But as fall cold germs begin to swarm around offices across the land, let's just say that it's very handy to have around.

Dr. Jart Cicapair Tiger Grass Color Correcting Treatment SPF 30, $52 at Sephora