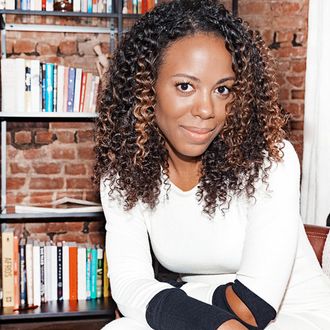 Ashley Weatherford
Photo: Courtesy of Tom Newton/Into The Gloss
Into the Gloss allotted three weeks for me to prepare my Top Shelf shoot with them, but truthfully, I wish it had been more. You see, Top Shelf is the beauty site's hallmark franchise, in which, on a weekly basis, the editorial arm of Glossier combs through the cabinets and vanities of key players in fashion and beauty. The Cut's Stella Bugbee debuted her Top Shelf a few months ago, and more recently Adriana Lima and Corinne Bailey Rae were on the site, too. You could say that I was in great company, but I was also very nervous.
Before the shoot there was so much to do. My hair: It needed a decent trim! My apartment: It needed a fixing-up! My weight: How much does the camera add again? Five? Fifteen? Oy.
In the end, I let most of those items fall to the wayside, but I did do a few things to get camera-ready. The day before the shoot, I received my first-ever set of eyelash extensions and had them applied at Wink Brow Bar. This was my first time wearing extensions, and they felt completely alien — like tiny weights hovering over my eyes. I opted for a "natural" set, but in retrospect, I should have committed myself to something more dramatic to capture the full fringe on film. However, I appreciated that I didn't need to apply a lick of mascara for a week.
My Top Shelf was shot in mid-August during a period when I was exclusively styling my hair naturally curly. I wanted to keep my curls for the shoot, but here's the rub: Curls, or at least the thin, sad curls that sprout from my head, photograph horribly. They look patchy, and thanks to my hair's two distinct curl patterns (I have loose ringlets throughout most of my hair and tight spirals at the crown), they tend to look oddly messy as well. So I booked an appointment through natural-stylist-booking app, Swivel, which is a bit like the Über-popular beauty appointment app Glamsquad, and Mia-Shanelle, my hair fairy godmother, strategically installed a few curly tracks for photogenic volume. And to blend the pieces with my natural hair, she wrapped tiny sections around a half-inch barrel curling rod. Make no mistake, I absolutely felt like Tina Knowles.
When it turned to skin, I didn't give my face much thought. Sure, I slapped on a SK-II sheet mask an hour before the camera arrived so my skin appeared especially smooth, but that was mostly it. I blended a dollop of Charlotte Tilbury's magical foundation all over and blotted my cheeks with Clinique's Ginger Pop. Following that, I dabbed a small amount of concealer under my eyes, dusted my face with powder and smacked my lips with Rimmel's nude Kate 46. After that, I opened my door to the Into the Gloss editors — as a natural beauty, of course.
As I sat down with Into the Gloss's editor, Emily Ferber, to discuss my beauty routine, Glossier's resident photo genius, Tom Newton, began to snap my apartment. He orchestrated the entire creative direction of the shoot. He placed a few bottles here and there in my bathroom, and he plucked a vat of hyaluronic acid from a bedside bin for a quick pic. One of the great mysteries of the day was how he managed to make my home look so damn welcoming. But as the shoot ran its course, I swapped a long Jennifer Chun dress for a roomy, white tunic. I was comfortable now, as long as no one discovered the heaping pile of junk sausaged in my closet.